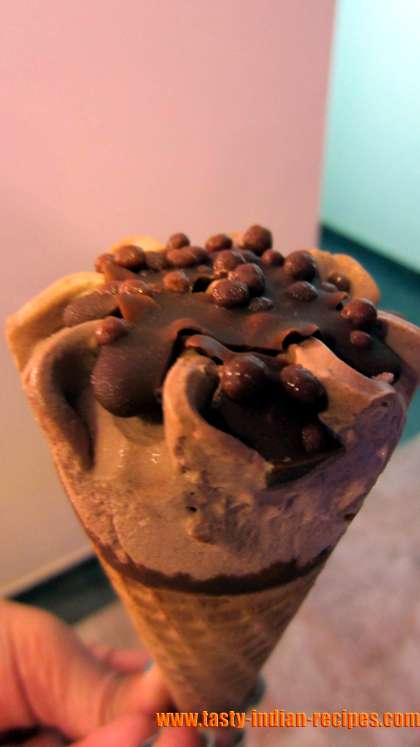 Chocolate Ice Cream is a yummy, chocolate flavored chilled Ice cream, made with milk, coffee, baking chocolate and some more true Ice cream made flavors.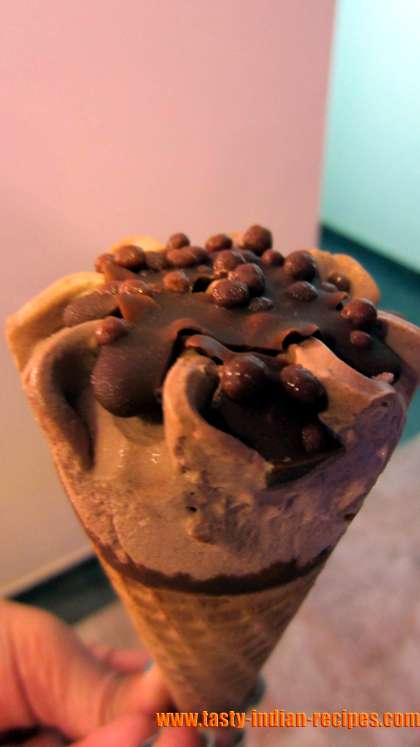 Ingredients:
3 cups condensed milk
1 tsp instant coffee
2 egg yolks
4 tbsp powdered sugar
1 cup baking chocolate
1 cup boiling water
3/4 cup unsweetened cocoa powder
A pinch of salt
4 cups Amul fresh cream
1-1/2 tbsp vanilla extract
Some choco chips
Few cashew nuts sliced
How to make Chocolate Ice Cream :
Melt the chocolate in a non-stick pan and transfer the melted chocolate in any heavy-bottomed saucepan.
Simmer the flame and add boiling water, cocoa powder and sugar into it.
Stir the mixture constantly till the sugar dissolves and there are no lumps at all.
Remove the mixture of melted chocolate from the heat and set aside.
Gradually add milk by mixing with the spoon.
Also add fresh cream, salt and instant coffee.
Mix thoroughly until all the ingredients are well incorporated in the chocolate base.
When the chocolate base in smooth, turn the heat little bit high and stir occasionally.
Whisk the egg yolks, add into the chocolate base and stir continue to combine.
Now the chocolate mix will slightly thickened, at this point, turn the flame to high and stir until it becomes steamy.
Remove the prepared chocolate base from the heat and allow to cool.
After the chocolate base is cool down, carefully pour it into the strainer to discard the solids and curds.
Place the bowl in an ice bath to speed up the chilling and stir in the vanilla.
Chill the prepared Ice cream base for many hours till it is completely chilled.
You can freeze it for 2 hours by stirring in every 30 minutes.
Churn in your ice cream maker according to the manufacturer's directions.
If you like soft ice cream, you may eat immediately or freeze for some more hours to eat chilled.
You can eat this delicious chocolate Ice cream either as it is or make your favorite chocolate cone.
Take a medium size waffle cone, scoop up with good amount of prepared ice cream, spread some cashew nuts and choco chips.
Enjoy yummy and chocolaty homemade Ice cream.
Chef Tips:
If you are a vegetarian, Do not add egg yolks.