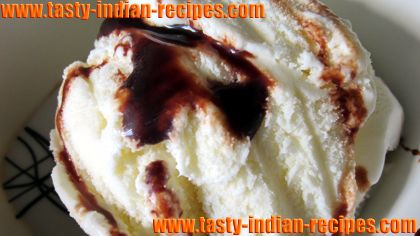 Vanilla Ice Cream is a creamy and yummy combination of milk, milk powder, vanilla essence, etc. The name Vanilla Ice cream is enough to melt the mouth's of everybody. Here are the simple steps to make low fat vanilla Ice cream, which is the base of making any type of Ice cream or combo of desserts.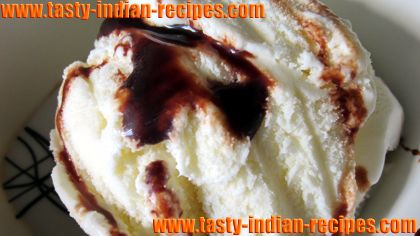 Preparation time: 8-10 minutes
Cooking time: nil
Servings: 4-5 persons
Ingredients:
150 gms fresh cream
3 cups sterilized milk
1-1/2 cups milk powder
2 tbsp vanilla essence
1 cup thin sugar
How to make Vanilla Ice Cream:
Mix the cream, milk, milk powder and vanilla essence thoroughly in a big bowl.
Stir for 2 minutes and add sugar.
Whisk until sugar is fully dissolved.
Transfer into small containers and freeze to set.
Use the blender for breaking the lumps of ice crystals, again transfer in the shallow containers.
Cover tightly and freeze until becomes firm. It will take about 2-3 hours.
Scoop out and serve.
While serving top with the hot liquid chocolate and serve yummy.
Chef Tips:
You may make the scoops, fit them in the desired bowls, freeze and serve.
You can garnish this vanilla Ice cream with the dry fruits.
You can refrigerate this Ice Cream for a week.
Accompany a scoop of vanilla ice cream near the brownie and make brownie with ice cream.
Vanilla ice cream with hot chocolate sauce is the great option to enjoy the delightful dessert.