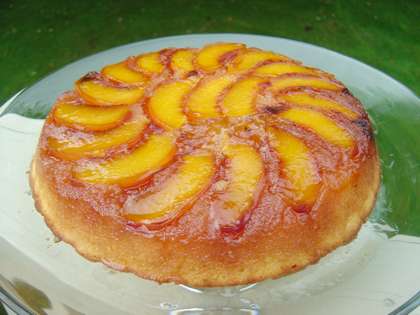 Peach Cake is made with fresh peaches, condensed milk, flour and vanilla. A wonderful cake dish and the exotic combination of several healthy as well as tasty ingredients is the best option to serve for any celebration. The  most amazing thing about this cake is that it can be made egg-less.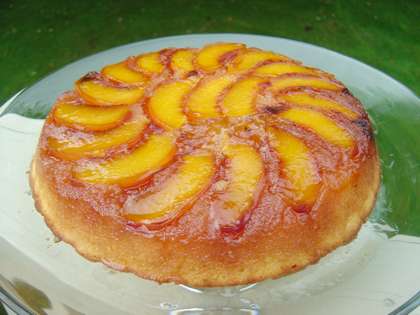 Preparation time: 10 minutes
Baking time: 30 minutes
Servings: 8-10
Ingredients:
2 cups Fine Wheat Flour (Maida)
2 tbsp baking powder
1/2 tsp Sodium Bicarbonate (baking Soda)
400 gm fresh peaches or 1 Tin Peach
1 Tin Condensed Milk
1 cup fresh milk cream
1 cup icing sugar
4 tbsp jam
4 cups Butter
2 tsp vanilla essence
1 cup mixed dry nuts chopped
How to make Peach Cake:
Cut the peaches into small pieces by reserving few aside.
Sift the flour with baking soda and baking powder. Keep aside.
In a big bowl, mix the butter and condensed milk.
Now gradually add little amount of flour mixture and mix well.
Add vanilla essence with 1 cup of warm water.
Whisk until batter turns smooth and keep aside for few minutes.
Whisk the fresh cream by adding icing sugar and keep aside.
Preheat the oven at 350 F degrees and grease the cake bake tin with some butter.
Pour the mixture in the tin.
Bake in preheated oven for about 25-30 minutes.
Prick the cake to see if the cake is ready.
It the cake is done, allow to cool it at a wire rack.
Now cut the cake from the center into 2 halves.
On the lower half, apply half of the beaten cream.
Sprinkle some reserved and chopped peach pieces and dry nuts.
Carefully place the other half on the lower section.
Apply jam on the outer section of the whole cake.
Finally apply rest of the cream on top of the cake.
Spread rest of the dry nuts and peach pieces.
Enjoy yummy and delicious Peach Cake.