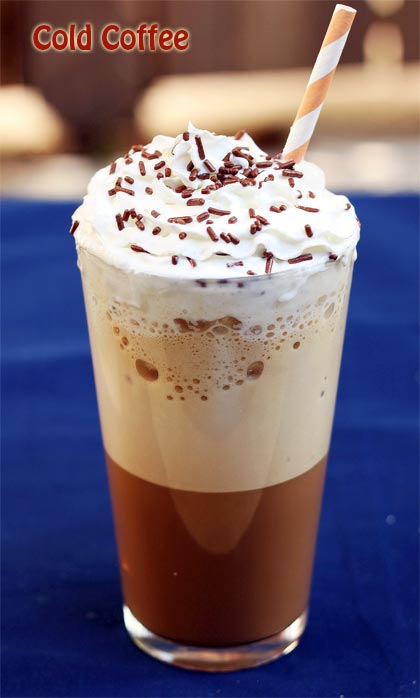 Cold Coffee is a refreshing and chilled drink made with milk, coffee powder and fresh cream. This coffee can genuinely refresh your tensed mind and tired body.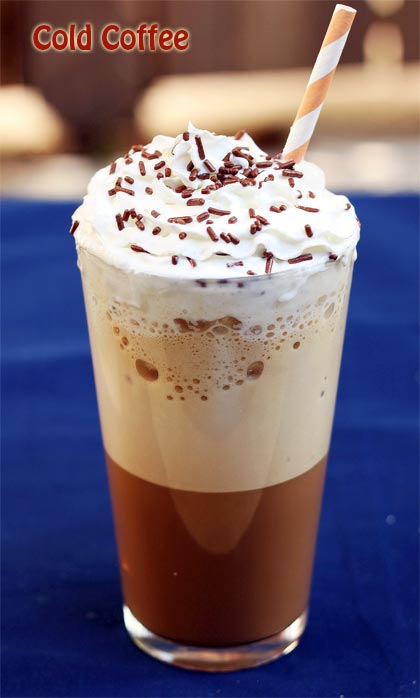 Preparation time: 5 minutes
Cooking time: 5 minutes
Servings: 4
Ingredients:
1 ltr cold milk
1-1/2 cups water
4 tbsp coffee powder
2 tbsp fresh cream
4 tsp sugar
4 cubes ice
How to make Cold Coffee:
Keep the water on high heat until boiled.
Now dissolve the coffee powder and sugar in the boiling water.
Allow to cool and add fresh cream and milk.
Pour the mixture in the blender and blend for few seconds until becomes frothy.
Pour the cold coffee into servings cups or mugs and put an ice cube.
Garnish with your favorite topping, just like I have done with lots of fresh cream and choco bits. Serve chilled.
Chef Tips:
You may refrigerate cold coffee for 1-2 hours and then serve chilled, here you are not suppose to add ice cubes.
This is one of the best coffee to chill yourself, specially in summer.