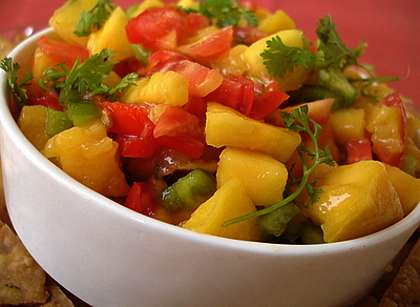 Mango Salsa is a delicious salsa dip, simply made with fresh mango, jalapeno pepper and minced red onion. This salsa is one of the best option to serve with various Indian veg and non-veg snack dishes.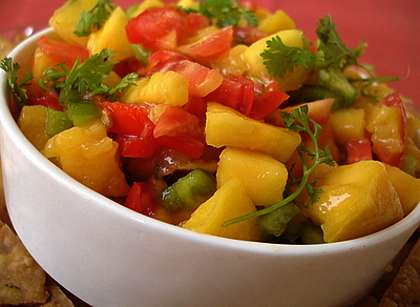 Prep time:
Cook time:
Total time:
Yield: 4 servings
Ingredients:
4 cup diced mangoes
1 big red onion (minced)
1 jalapeno pepper (seeded and finely chopped
1/2 tsp fresh lemon juice
Good amount of chopped fresh cilantro
1 tsp olive oil
Salt to taste
How to make Mango Salsa:
Heat olive oil in a pan and saute diced mangoes for few seconds.
Allow the mangoes to cool down and then combine with remaining ingredients.
Adjust with some salt and let stand for 10-15 minutes.
Toss very well just before serving.
Serve this delicious mango salsa with paneer, chicken or fish dishes.