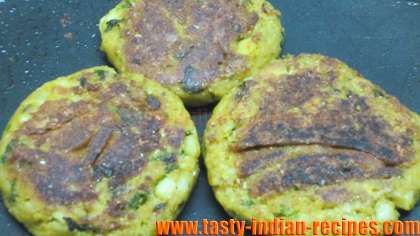 Potato Cutlets is a quick and easy Indian snack dish. Simply boiled potatoes are mashed well and mixed with fresh Indian spices. You can either fry these cutlets or bake them in oven, both ways are good to make these delicious cutlets. In my previous recipe, I have fried them, but today I'm going to little shallow fry my potato cutlets.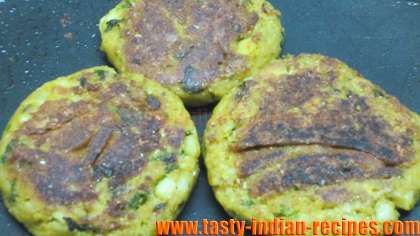 Prep time:
Cook time:
Total time:
Yield: 8 servings
Ingredients:
4 big potatoes (boiled, peeled and mashed)
2 green chillies finely chopped
1/2 tsp red chilli powder
1/2 tsp cumin powder
1/4 tsp coriander powder
1/4 tsp chaat masala powder
1/2 tsp garam masala powder
4 bread slices
1 tbsp all-purpose flour (maida)
1 tsp cashew nuts paste
Fresh coriander leaves finely chopped
Salt to taste
Oil to shallow fry
How to make Potato Cutlets :
Grind the bread slices into a fine bread crumb and keep aside.
First of all, mash the boiled potatoes very well in a big bowl.
Make sure, the potatoes are well done and soft for making the cutlets.
Add salt, spices, green chillies and cashew nuts paste in potato mixture and mix all very well.
Now add maida, chopped coriander and breadcrumbs, mix again.
Heat a griddle / tawa and spread some oil all over.
Now you can make round potato cutlets or heart shaped cutlets. It's your choice.
Take little oil in your palms and make small cutlets from the prepared potato mixture.
Arrange the cutlets on hot griddle at proper distance and keep the flame medium high.
For the proper cooking of cutlets, you need to take care of the flame that should not be too low or too high.
Fry evenly from both sides till turns golden brown and little crispy.
Pour little oil all over on the cutlets and flip them.
Your cutlets are ready to serve with green chutney and tomato ketchup.
Chef Tips:
You can use this cutlet mixture within 2 days and refrigerate it very well till you fry them.
If you are using cookie cutter for giving a proper shape to the cutlets, then first grease the cookie cutter with some oil and then fill the potato mixture to avoid the stickiness.