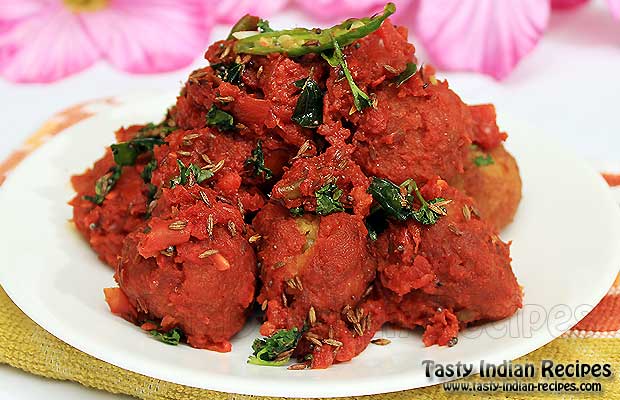 Punjabi Dum Aloo is the rich and spicy Amritsari recipe, truly flavored with awesome flavors of Punjab. Here baby potatoes are cooked in onion and tomato based gravy and flavored with Indian spices and kasuri methi.
I have cooked Dum aloo Amritsari by using baby potatoes and haven't halved them, just fried them in hot oil and then cooked in spicy curd based gravy. Punjabi dum aloo has a tang from tangy tomatoes and sweet hint from onions and mix flavors of usual Indian spices. If you are cooking it properly, then what you get is a creamy and delicately spiced & flavored dum aloo.
Dum aloo recipe is one of the most famous Dish in almost every Indian restaurant. Today you can get an idea of making step by step recipe and you will come to know that how frying onion paste, tomato paste and cashew paste is so important for North Indian dishes. if you don't do it properly, you won't get the right flavors and taste in your final dish. I have used lemon juice instead of yogurt,  however the dish would equally taste good with dairy yogurt or a vegan yogurt.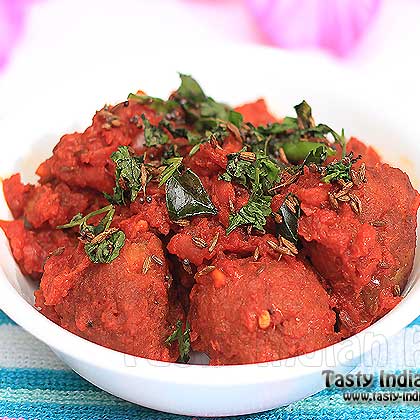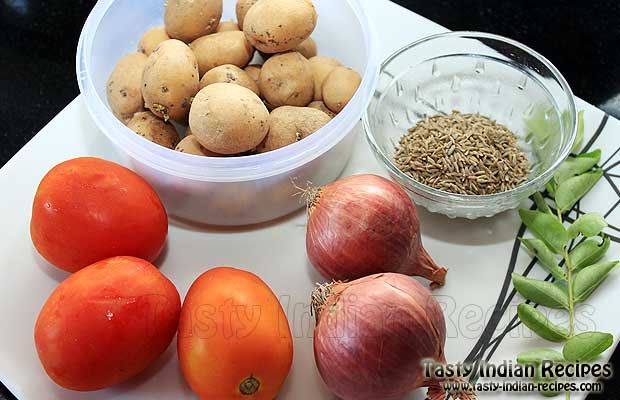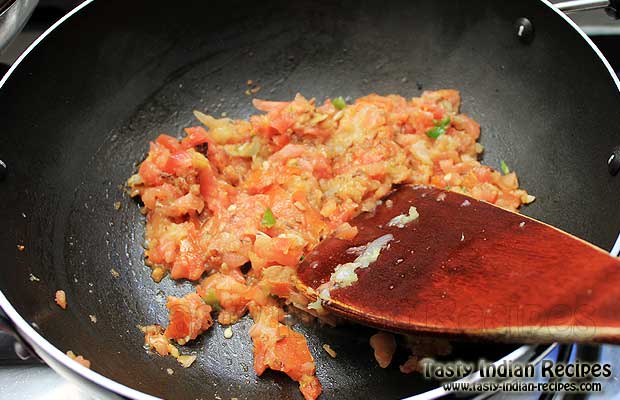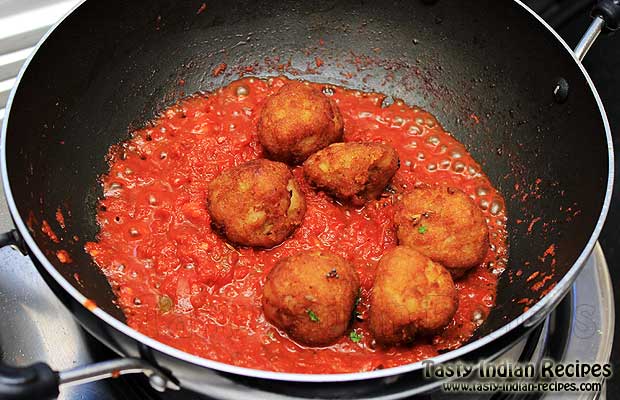 How to make Punjabi Dum Aloo Recipe:
Punjabi Dum Aloo Recipe is the famous Amritsari Recipe, cooked with Baby Potatoes and flavored with Cashew nuts Paste and Indian Spices. This creamy and delicately spiced Dum Aloo Dish is usually served with Roti or Naan.
Ingredients
2 cups baby potatoes
1/10 teaspoon asafoetida
1 small onion (finely chopped)
2 tomatoes (chopped / pureed)
4 green chillies, chopped
1 inch ginger, minced
6-7 pods of garlic, fine chopped
1 teaspoon cumin seeds
1 teaspoon crushed kasuri methi
1/2 teaspoon red chilli powder
1/2 teaspoon turmeric powder
1 teaspoon coriander powder
1 teaspoon Everest Sabji Masala
1/2 teaspoon lemon juice
2 teaspoon cashew nuts paste
2 cups cooking oil
1 tablespoon fresh coriander leaves (finely chopped)
Instructions
Keep all the ingredients ready for making Punjabi Dum Aloo. Boil the baby potatoes only with 2 whistles, to prevent them from breaking. Peel and Keep aside.

Heat 2 tsp oil in a non-stick pan and add cumin seeds. Allow the seed to splutter and then add chopped onion, green chillies, ginger and garlic. When onion caramelized, add chopped tomatoes. Mix in salt to taste, asafoetida, red chilli powder, turmeric powder and sabji masala. Stir in cashew nuts paste as well.

Now stir the ingredients on a moderate flame to blend the spices very well. Add a little water, cover the pan and leave to cook for a few seconds. (In this way, raw flavor of onion and tomatoes will disappear). Heat good amount of oil in a frying pan and deep fry baby potatoes on medium high flame, till little browned. Add fried potatoes in gravy and stir in lemon juice. Simmer for 2-3 minutes, till the potatoes absorb gravy. (Note: If you want more gravy, then add little more water in it).
Garnish the dish with chopped coriander leaves.
Notes
Dum Aloo Recipe is the special Punjabi Delicacy and Punjabi's use good amount of ghee and cream in it.
Tasty Indian Recipes
Chef Tip:
Garnish the dish with chopped coriander and serve hot with flat Indian roti or jeera rice.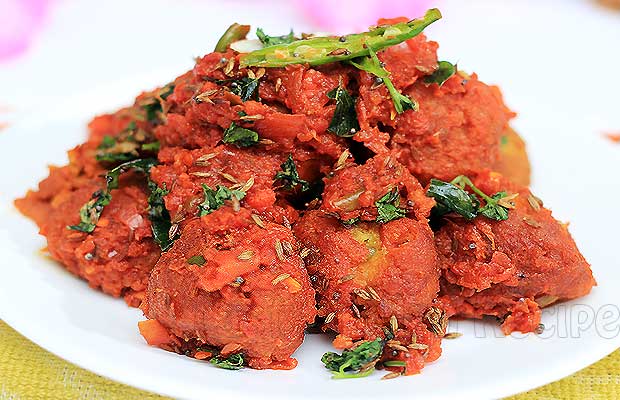 Further Reading:
You may like to read some more recipes made from baby potatoes, such as Baby Potato Fry and Aloo Chaat.