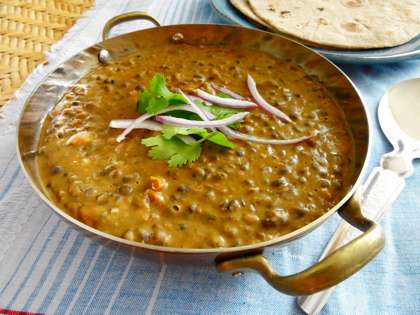 Dal Makhani Recipe or (Maa Ki Daal) is the most famous and delicious Indian dal recipe, simply cooked in the combination of whole urad daal (urad sabut) and Red kidney beans (Rajma).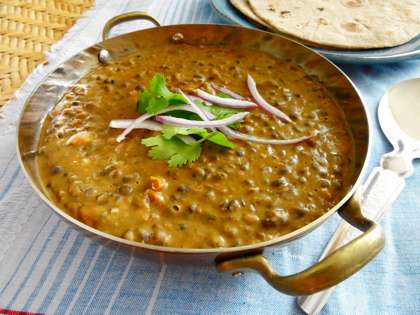 Preparation time: 8-10 minutes
Cooking time: 35 minutes
Servings: 4-6
Ingredients:
1-1/2 cups whole urad daal (urad sabut)
4 tbsp Red kidney beans (Rajma)
4 green chillies finely chopped
1 tsp ginger minced
1 tsp garlic paste
1-1/2 tsp cumin seeds (jeera)
1 big onion finely chopped
3 tomatoes finely chopped
1/2 cup curd (yogurt)
1/2 cup fresh cream (malai)
1/2 tsp red chilli powder
3/4 tsp turmeric powder
1 tsp coriander powder
1 tsp garam masala powder
1/2 tsp dry mango powder
2 tbsp butter
Fresh coriander leaves finely chopped
Salt to taste
How to make Dal Makhni :
Soak the rajma overnight in water.
Pressure cook the rajma and urad dal together by adding salt and turmeric powder.
Wait for 5-6 whistles until dal turns soft.
Mash and boil again for 15-20 minutes by adding fresh curd.
Melt the butter in deep pan and add cumin seeds.
Allow the seeds to splutter and stir in ginger and garlic.
After few seconds add onion and green chillies.
Fry till the onion turns soft and browned.
Add tomatoes and mix well by adding salt and spices.
Now in kadhai heat oil, splutter cumin seeds and add garlic paste, fry till light brown. Add onions and fry till golden brown.
Add cooked daal and stir on medium flame.
After few boils, turn the gas off and remove the dal from the flame.
Finally garnish it with good amount of chopped coriander and fresh cream.
Serve daal makhni hot with laccha paratha, naan or rice.