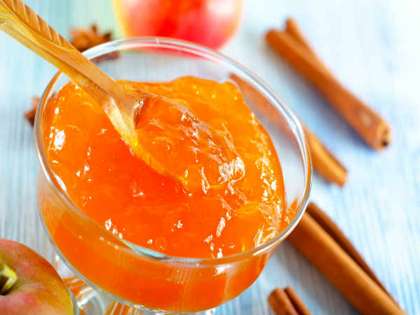 Apple Jam is the blend of apples, lemon juice and spice powder. This is the best home made jam made with fresh apples. The healthy and yummy apple jam can be made in just few minutes at home, then why to eat preserved one?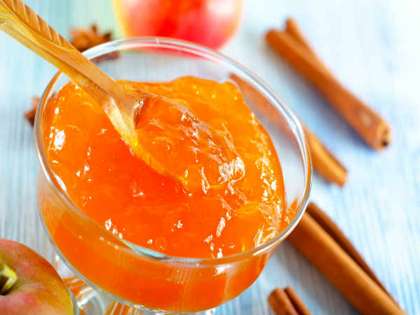 Preparation time: 15 minutes
Cooking time: 20 minutes
Servings: 1 small jar
Ingredients:
1 kg apples (peeled and chopped)
2 tbsp lemon juice
2 tsp nutmeg
150 gm sugar
200 ml water
10 gm pectin (store bought)
1 tbsp grounded all spice
How to make Apple Jam:
Heat a big vessel on the flame.
Add apples, sugar, nutmeg and lemon juice.
Mix and add water.
Stir continue to dilute the sugar.
Cover the vessel and simmer the flame for 8-10 minutes.
Stir with the pectin and cook until few boils.
Stir and add all spice.
Mix and cook only for couple of minutes.
Immediately fill this jam into the jar, cover with the tight lid.
Use for making toasts or jam paratha.
Chef Tips:
I have used brown sugar, but if it is not available then white sugar can be used.
For saving the time you can boil the apples and mash them to make the jam.
Also you can microwave the apples for few minutes on high.
Pectin is an apple citrus which is available in various pack sizes in the market.