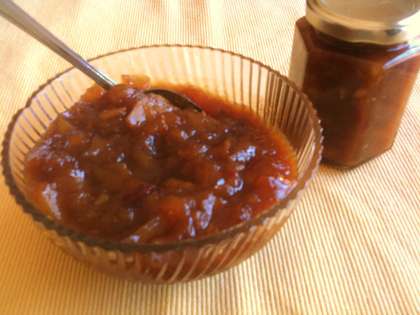 Sweet and Spicy Mango Jam is a unique spiced up Jam made with lots of fresh mangoes, sugar and spices. This is the best jam or Sindhi style unique murbo, which can be served with roti, puri or paratha.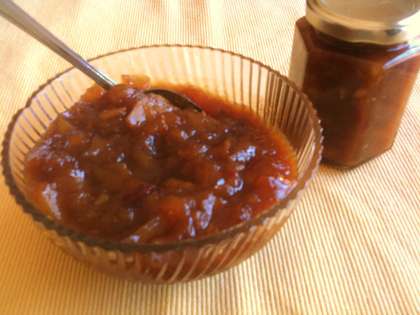 Preparation time: 8 minutes
Cooking time: 30 minutes
Servings: 1 medium size jar
Ingredients:
4 mangoes (Totapuri and raw)
4 cups sugar
5-6 green cardamoms
2-3 black peppercorns
1 bay leaf
1 inch cinnamon stick
1/2 tsp black pepper powder
1 tsp red chilli powder
1/2 tsp lemon juice
1/2 tsp salt
2 cups water
How to make Sweet and Spicy Mango Jam (Sindhi Murbo Recipe):
Peel the mangoes and chop them into small pieces. Throw out the inner seed.
Heat a big U shaped vessel and add water and sugar.
Mix well and add salt. Stir at frequent intervals until sugar dissolves fully.
Add the chopped mangoes and all the remaining ingredients.
Mix well and leave the mixture to boil for 5-6 minutes on medium high flame.
Keep stirring until it becomes in the consistency of jam.
Leave to cool and then fill in the air tight container.
Serve it at any time with roti, masala chapati, puri or paratha.
Chef Tips:
This is a sweet and tangy mango jam, you can add the sugar as per your taste and preference.
It would be advisable to use the sterilized jars for keeping this jam fresh for long time.
You can store this jam for 2-3 months outside at room temperature, and for 6-8 months in the refrigerator.
It would be better if you are not using wet spoons, spatulas or hands to take out the jam from the jar.