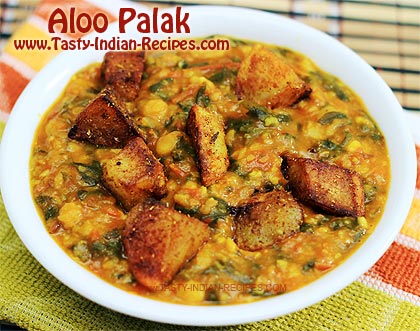 Aloo Palak Recipe is the unique combination of potatoes and spinach, cooked in tomatoes gravy and then served with the slices of onion and lemon wedges. It is one of the delicious North Indian recipes, having tremendous flavors of green leafy vegetable and other spices.
Preparation time: 10 minutes
Cooking time: 25 minutes
Servings: 4
Ingredients required for making Aloo Palak Recipe:
1 bunch spinach (palak) chopped
1/2 cup boiled chana dal (optional)
2 potatoes boiled and peeled
1 onion sliced
4 tomatoes sliced
1/2 tsp cumin seeds
6 green chillies
4 cloves garlic
1 inch ginger
2 tsp coriander powder
1 tsp garam masala powder
1 tbsp oil
2 tbsp fresh cream
Salt to taste
 How to make Aloo Palak Recipe:
Chop the boiled potatoes, deep fry in hot oil, mix salt, red chilli powder and turmeric powder. Toss and keep aside.
Wash the spinach thoroughly and boil in its own water. Leave to cool.
Combine the spinach, green chillies, ginger, garlic and cumin seeds.
Blend and make a smooth puree.
Heat the oil in a pan, add the slices of onion.
Fry till onion become translucent.
Add the spinach puree along with tomatoes.
Mix with all the spices.
Cook on low flame for 6-7 minutes.
Add fried potatoes along with boiled chana dal and adjust the spices.
Cook for 3-4 more minutes.
Finally add fresh cream.
Cook for one more minute and serve hot with roti or rice.