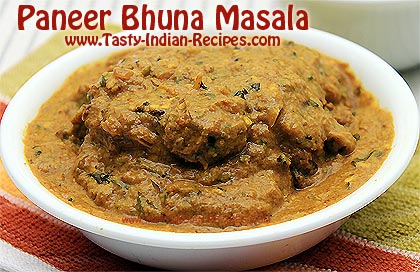 Paneer Bhuna Masala is a rich and spicy Indian Paneer Dish. Simply Cottage Cheese is cubed and combined with an amazing bhuna masala. Bhuna Masala can be easily prepared with rich Indian spices. It needs continuous stirring to cook completely, so you must cook it properly and with the concentration. Paneer Bhuna Masala is a Traditional Indian recipe and served around the world in Indian Restaurants.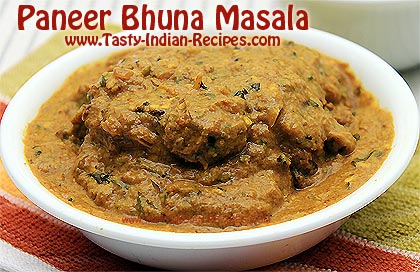 Preparation time: 20 minutes
Cooking time: 25 minutes
Servings: 2-3
Ingredients:
250 gms Paneer Cubes (Indian Cottage Cheese)
3 onions chopped
4-5 tomatoes chopped
2-3 curry leaves
1/2 tsp mustard seeds
2 tsp ginger garlic paste
4-5 green chillies chopped
2 dried red chillies
1/2 tsp red chilli powder
1/2 tsp turmeric powder
1 tsp coriander powder
1 tsp garam masala powder
Salt to taste
Fresh cilantro thinly chopped
2 tsp oil
How to make Paneer Bhuna Masala:
Heat oil in a pan, add curry leaves and mustard seeds.
As they start crackling, add the paste of ginger-garlic, chopped green chillies and dried red chillies.
Saute all together for 2 minutes on low heat.
Add chopped onions and cook till onion turns into golden brown color.
Add chopped tomatoes, salt, red chilli powder, turmeric powder and mix well.
Cook on medium heat till the gravy become thick and oil begin to separate.
Add paneer cubes and cook for 5 more minutes with stirring gently.
Add coriander powder and garam masala powder.
Cook for a minute and garnish with fresh cilantro.
Serve hot with butter naan or roti.
Chef' Tips:
You can make this recipe by adding lots of vegetables such as green peas, capsicum, mushroom etc.
Add little bit of water if require, bhuna masala gravy should be medium thick.
If you do not have time to cook bhuna masala, then you can use ready made bhuna masala, which is easily available in the stores.