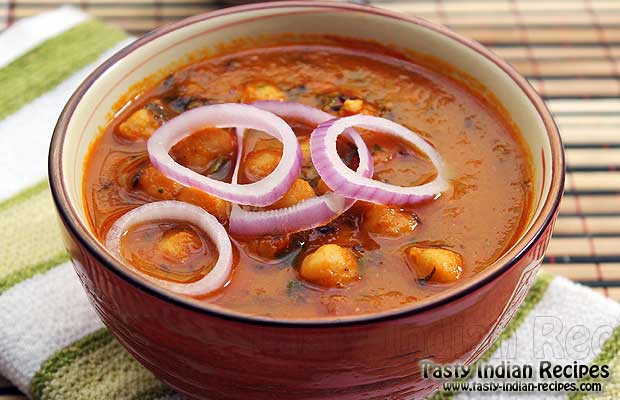 Paneer Chana Masala is the combination of cottage cheese and boiled channa cooked in spicy rich gravy and then served with roti or rice. It is one of the most popular dish of Punjabi Cuisine. Here normal black chana have been used to make this dish. You can use home made or ready made paneer, but make sure it must be fresh and soft malai paneer.
Preparation time: 5 minutes
Cooking time: 20 minutes
Servings: 3
Ingredients:
100 gms paneer cubes
1 cup chana (kabuli chole)
1 big onion thinly chopped
4 tomatoes chopped
4 green chillies chopped
1/2 tsp cumin seeds
6 cloves garlic chopped
1 inch ginger minced or chopped
1 bay leaf
1 black cardamom
1/2 inch cinnamon stick
3 peppercorns
1/2 tsp green cardamom powder
1/2 tsp red chilli powder
1 tsp coriander powder
3/4 tsp kitchen king masala
1 cup fresh cream
Fresh cilantro chopped
Few mint leaves chopped
Vegetable oil
Salt to taste
How to make Paneer Chana Masala:
Soak the chana in the water for about 10 hours.
Boil and keep aside.
Heat sufficient oil in a pan and shallow fry the cubes of paneer.
Remove on absorbent paper and keep aside.
Heat a pan and add 2 tsp vegetable oil.
As oil starts heating then add bay leaf, black cardamom, cinnamon stick and pepper corns. Saute for few seconds.
Add cumin seeds and saute to splutter with other dry spices.
Add ginger and garlic, fry for few seconds.
Add chopped onion along with chopped green chillies.
Cook until onion become soft and mushy.
Add chopped tomatoes, salt and red chilli powder.
Simmer the gas and cook for about 3-4 minutes.
Mash to make a nice red gravy by adding 1 cup of water.
Now add fried cubes of paneer and boiled chana.
Also add coriander powder, kitchen king powder and cardamom powder.
Cook until few boils come out.
Now add fresh cream and stir for 2 more minutes.
Garnish with chopped cilantro and mint leaves.
Serve hot with tandoori roti or Indian flat bread.
Chef Tips:
Do not add water if you want this dish dry to serve.
Here you can use paneer as it is without deep frying.
I have tried grated paneer to make this dish, it was really very tasty.