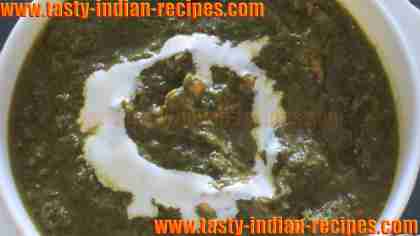 Palak Gosht is the tremendous and mouth-watering combination of spinach and goat meat. It is the special Punjabi delicacy cooked in Indian spices and then served with a roundel of fresh cream.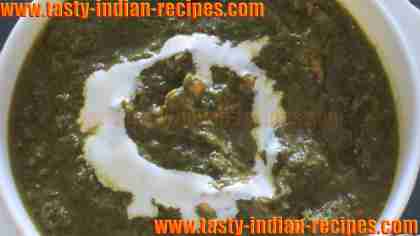 Preparation time: 15 minutes
Cooking time: 25-30 minutes
Servings: 4
Ingredients:
1 bunch spinach
300 gms goat meat
6-8 green chillies
1 onion cut into chunks
2 tomatoes cut into chunks
8-10 cloves garlic
2 inch ginger piece
1/2 tsp sesame seeds
1/2 tsp cumin seeds
1 bay leaf
3-4 black peppercorns
1 inch cinnamon bits
2-3 cloves
1/2 tsp red chilli powder
1/2 tsp turmeric powder
1 tbsp coriander powder
1 tbsp meat powder
1 tbsp fresh cream
1 tbsp ghee
Salt to taste
How to make Palak Ghosht:
Chop the spinach leaves finely and wash thoroughly in normal tap water.
Cut the mutton into medium size pieces and clean thoroughly.
Boil the spinach in salted boiling water for about 4-5 minutes.
Squeeze and blend along with onion, tomatoes, green chillies, sesame seeds, ginger and garlic.
Melt the ghee in a pan and add bay leaf, cumin seeds, cloves, peppercorns and cinnamon bits.
Saute whole spices just for few seconds and add spinach paste, chopped mutton, salt and all other spices except fresh cream.
Stir fry on high flame for about 10 minutes.
Add 2 cups of water and cover the pan.
Cook until mutton tenders and the curry thickens.
Garnish with the fresh cream and serve with roti, rice or naan.
Chef Tips:
You may garnish palak ghosht with chopped dry fruits.
If spinach tastes bitter then add little bit of sugar while cooking.
Oil can be used instead of ghee.