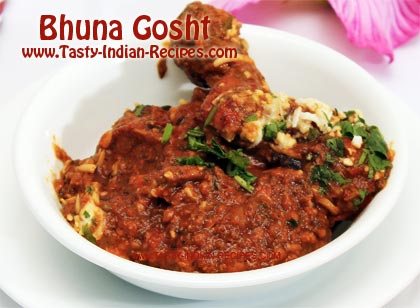 Bhuna Gosht is the famous Indian Meat Recipe, here Mutton Pieces are pan-fried in spicy onion tomato gravy and deeply flavored with fresh ground spices. Absolutely delicious twist is given to the lamb chops for making this meat delight called as 'Mutton Bhuna Gosht'.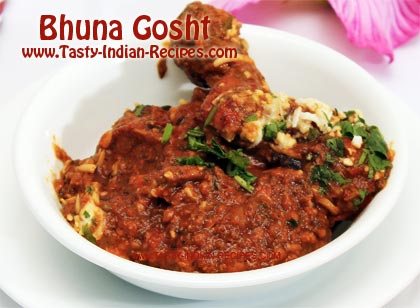 Prep time:
Cook time:
Total time:
Yield: 8 servings
Ingredients:
500 gm boneless Mutton pieces
2 cups curd
2 big onions finely chopped
3 tomatoes finely chopped
1 tbsp cashew nuts paste
8 cloves garlic finely chopped
2 inch ginger minced
2 green chillies finely chopped
1/2 tsp red chilli powder
3/4 tsp coriander powder
2 tsp lemon juice
1 tsp Everest meat masala (store bought)
1 bay leaf
1/2 tsp cumin seeds
2 green cardamoms
1 star aniseeds
1 clove
1 tsp kasuri methi (dried fenugreek)
A pinch of red food color
Salt to taste
2 tbsp ghee /oil
How to make Bhuna Mutton :
Clean the mutton pieces in tap water and apply salt and lemon juice all over on mutton pieces.
Melt 1 tbsp of ghee in a pan and pan fry the mutton pieces till they are little soft.
Smear the fried mutton pieces in curd, cover and Keep aside.
Melt the ghee in a non-stick pan and add bay leaf, clove, cumin seeds, cardamoms and aniseed.
Saute altogether for few seconds.
Add finely chopped onion and keep stirring.
Add green chillies, ginger and garlic and continue saute till oil begins to separate.
Now add fine chopped tomatoes, salt and spices.
Reduce the flame and cover the pan for 2 minutes.
Uncover and keep stirring until the onion-tomato mixture softened and seems like a bhuna paste.
This procedure, we could have done through the chopper, but I deliberately needed finely chopped onion, ginger, garlic and tomatoes with the hands, because you can really feel the bhuna taste in this way, so keep stirring and trust me your time is worth for everything here.
After few minutes of cooking on low flame, add mutton pieces and saute well with bhuna mixture.
Add 2 cups of water, cover the pan, simmer the flame and leave to cook until mutton is well done.
In between, put a drop of food color, mix very well by adding dried fenugreek as well.
After 6-8 minutes, mix the cashew nuts paste very well in mutton pieces.
Finally garnish the dish with fine chopped coriander leaves.
Serve hot with naan or roti.