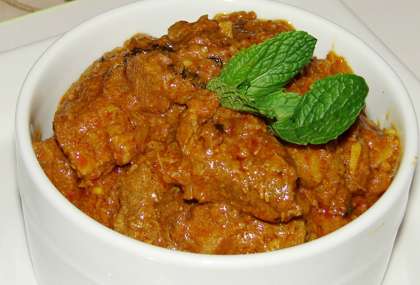 Kashmiri Mutton Curry is a mouth melting goat meat curry made in the flavors of rich khoya, milk, cream and other delicious ingredients. This is one of the most popular and awesome dishes of Kashmiri Cuisine.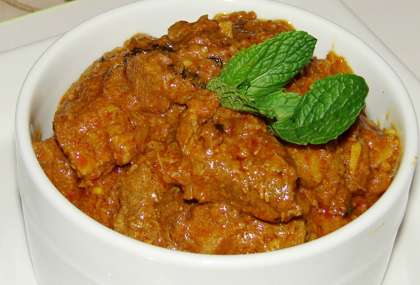 Preparation time: 15 minutes
Cooking time: 40 minutes
Servings: 4 persons
Ingredients:
300 gms mutton pieces
2 green chillies sliced
2-3 cloves garlic minced
1/2 tsp ginger paste
1/2 tsp cumin seeds
1/2 tsp fennel seeds
1 tsp cardamom powder
2 tbsp curd
1/4 tsp honey
2 cups milk
1 tbsp fresh cream
50 gms khoya
1 tbsp butter
Salt to taste
How to make Kashmiri Mutton Curry:
Heat the pan and melt the butter.
Add cumin and fennel seeds. Allow to crackle.
Add green chillies, ginger and garlic. Saute for few seconds.
Add milk along with 4 cups of water.
Add salt, curd, honey and khoya.
Mix well and add the pieces of mutton.
Mix and cover the pan.
Leave to cook for about 30 minutes on low flame.
Finally add fresh cream and cardamom powder.
Wait for few boils.
Serve hot with rice or pulao.
Chef Tips:
The other method of making this dish is, first combine the curd, khoya, ginger, garlic and green chillies. Blend to make a fine paste and then marinate the mutton in this paste for 10-15 minutes. Later cook it with the milk and cream.
This dish is quite a sweet type of mutton curry, but if you want you can add little more spices.
You may garnish this dish with cashew nuts and raisins.