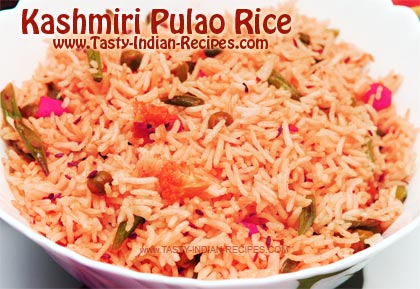 Kashmiri Pulao Rice is one of the most famous Indian pulao dish. Basmati rice are cooked in rich flavors of saffron, cinnamon and cardamom and garnished with rich Indian dry fruits.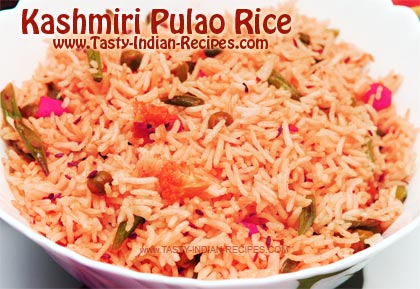 Prep time: 5
Cook time:
Total time:
Yield: 6 servings
Ingredients:
4 cups Long Grain (Basmati) Rice
2 big Onions (sliced)
1gm saffron (kesar)
4-5 green cardamom (Small Elaichi)
1 inch Cinnamon (dalchini) (cut into bits)
1/2 tsp turmeric powder
A pinch of red-orange food color
1 cup Milk
5-6 cloves
4 tbsp cashew nut sliced / chopped
5 tbsp walnut sliced / chopped
8 cups water
1/2 cup cooking oil or 2 tbsp ghee
Salt to taste
How to make Kashmiri Pulao:
Wash the rice in normal tap water and soak for about 20 minutes.
Heat oil and fry onions until golden brown.
Drain and keep aside.
Fry the whole spices in same oil and add soaked rice.
Add turmeric powder along with food color.
Soak the saffron in warm milk for few minutes and then stir in rice.
Mix salt and other ingredients by adding water in the rice.
Cook the rice on high flame for first 4 minutes and then simmer the flame.
Cook till each grain of rice is separated and well done.
Garnish kashmiri pulao with fried onions, chopped walnuts & cashew nuts.