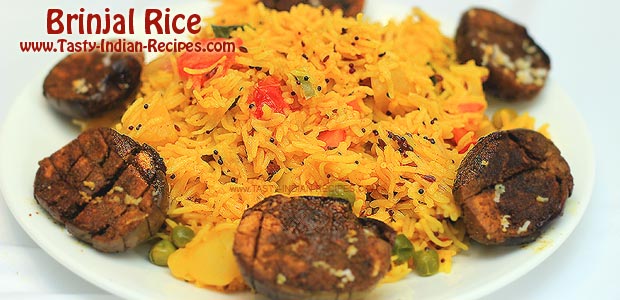 Brinjal Rice are mouth-watering and tempting rice dish cooked with eggplants (brinjals) and spices, flavored with cumin seeds and curry leaves. It is one of the most delicious main course meal that itself is a complete meal or you can serve it with any type of raita.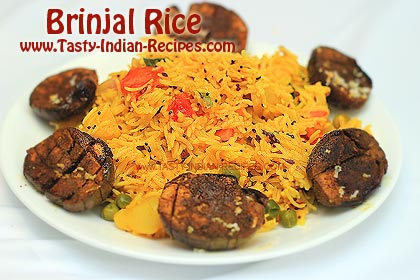 Preparation time: 15 minutes
Cooking time: 25 minutes
Servings: 6 persons
Ingredients:
2 cups basmati rice
4 small eggplant (brinjals)
2 onion thinly sliced
Few curry leaves
1/2 tsp cumin seeds
4 green chillies thinly chopped
1/4 tsp turmeric powder
1/2 tsp garam masala powder
1 tbsp curd
2 tbsp lemon juice
Fresh cilantro chopped
A pinch of red food color
2 tbsp oil
Salt to taste
How to make Brinjal Rice:
Wash the rice thoroughly in normal running water and soak in 4 cups of water.
Clean the brinjals and chop into thin pieces. Keep aside.
Heat the oil in a big pan and add curry leaves, green chillies and cumin seeds.
Allow the seeds to splutter for few seconds and add slices of onion.
Fry on medium high flame until onion translucent.
Add brinjals, curd, salt, turmeric powder and lemon juice.
Mix well and cover the pan.
Cook on low flame for about 2 minutes.
Now add soaked rice with its water along with the food color.
When the rice starts boiling then add freshly chopped cilantro and garam masala powder.
Cook on high heat for few minutes until 3/4 water evaporates.
Lower the flame and cover the pan.
Uncover after 2-3 minutes until rice tenders.
Stir very gently with the opposite side of the spatula so that each grain must coat very well.
Serve hot with raita of your choice.
Chef Tips:
Another way to make Brinjal rice is, you can boil the rice and cook the brinjals separately and mix them later just before serving.
Adjust the spices as per your requirement.
Food color is an optional ingredient.