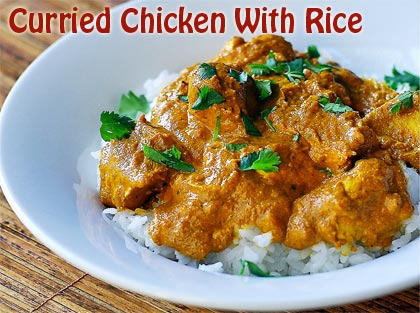 Curried Chicken With Rice is a combination of chicken and rice. Chicken is simply cooked in a unique curry, prepared with coconut milk, cornstarch, creamy chicken soup, etc and then mixed with basmati rice. It is a different but truly delicious main course dish.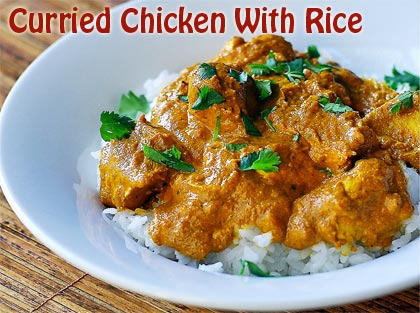 Preparation time: 10 minutes
Cooking time: 40 minutes
Servings: 4
Ingredients:
1-1/2 cup basmati rice
1 chicken breast (cut into pieces)
1 cup chicken stock
1/3 cup creamy chicken soup
2 tbsp almonds blanched
1 tsp paprika
1-1/2 tsp fresh butter
1/2 tsp curry powder
1/4 cup coconut milk
1/2 tbsp sherry
1/2 tbsp cornstarch
A pinch of turmeric powder
1 tbsp kasuri methi
Salt to taste
2 tbsp ghee
How to make Curried Chicken with Rice:
Dilute the cornstarch in 4 tbsp of water and keep aside.
Melt the ghee in a pan and add rice along with 3 cups of water.
Spread the pieces of chicken breast and top with the butter.
Add salt as per taste and spread paprika, sherry, curry powder and blanched almonds.
Mix well and cover the pan.
Leave to cook for about 6-7 minutes on low flame.
Uncover and add creamy chicken soup, chicken stock, coconut milk and cornstarch mixture.
Stir with turmeric powder and kasuri methi.
Cover the pan again and leave to cook for about 6 minutes.
Serve piping hot.
Chef Tips:
You can adjust the coconut milk and chicken stock as per curry of your requirement.
You can garnish this dish with chopped cashew nuts and raisins.
Oil can be used instead of ghee.