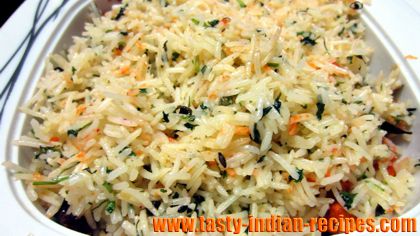 Chicken Pulao is an exotic combination of chicken, rice, whole garam masala and coconut milk. It is the delicious and shahi preparation of basmati rice, which is truly an aromatic Indian Chicken and rice recipe. This flavorful chicken pulao can be served as a best main course recipe.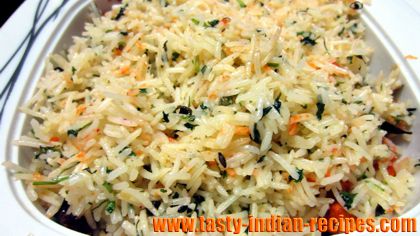 Preparation time: 20 minutes
Cooking time: 45-50 minutes
Servings: 3-4
Ingredients:
200 gms chicken (boneless and skinless)
1 cup basmati rice
4 cloves garlic minced
1 inch ginger minced
4 green chillies thinly chopped
A pinch of mace
A pinch of nutmeg powder
1 big onion thinly chopped
2 tomatoes finely chopped
1/4 cup coconut milk
2 tbsp ghee
1/2 tsp red chilli powder
1/4 tsp turmeric powder
1 tsp coriander powder
2 tbsp tandoori masala powder
1 tbsp lemon juice
Fresh cilantro chopped
Few mint leaves chopped
Whole garam masala:
1 bay leaf
2 cardamoms
3-4 cloves
304 black peppercorns
1 inch cinnamon
1 dried kasmiri red chilli
1 star anise
1 mogga
How to make Chicken Pulao:
Clean and chop the chicken into small pieces.
Marinate it with salt, red chilli powder, 1 tbsp of tandoori masala powder and lemon juice.
Wash the basmati rice in normal running water and boil them with little bit of salt.
Transfer the boiled rice in the strainer to drain out the whole water and keep aside.
Melt 1 tbsp of ghee in a big kadhai.
Add whole garam masala and saute for few seconds until aroma of whole spices comes out.
Now add chopped onion, fry until onion translucent.
Add green chillies, ginger and garlic. Saute for few more seconds.
Add mace, nutmeg and tomatoes.
Mix well and stir with the salt.
Cover the pan and allow to cook until oil begins to separate.
Add chicken, turmeric powder, coriander powder and tandoori masala powder.
Mix well and add coconut milk.
Again cover the pan, simmer the flame and leave to cook until chicken tenders, it will take about 6-8 minutes.
When the chicken is completely done then switch off the gas.
Heat a big non-stick pan in which you should be able to toss the mixture.
Put little amount of cooked chicken, rice, coriander, mint and little bit of ghee.
Again make the layers of remaining chicken, rice, ghee, coriander and mint leaves.
Cover the pan tightly and leave to set only for 2-3 minutes.
Uncover and combine very gently.
Serve hot with rait of your choice.
Chef Tips:
You can make colorful chicken pulao by adding a pinch of red-orange food color and yellow food color.
You may use oil instead of ghee, but the true aroma of pulao is because of ghee.
If tandoori masala is not available then add garam masala powder.