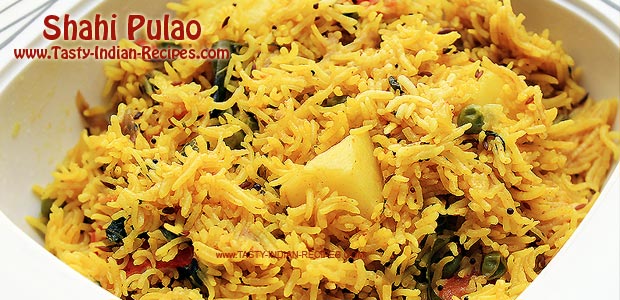 Shahi Pulao Recipe is a Royal (Shahi) Style Rice Recipe, here Basmati Rice are cooked with aroma of Whole Garam Masala and flavored with Rich Dry Fruits.
Shahi pulao is the great delicacy of rice recipes made with basmati rice, tasty veggies, paneer and the shahi masala powder. This pulao is basically a Mughlai version of spicy pulao recipes. You can serve this shahi pulao with dal fry or raita of your choice.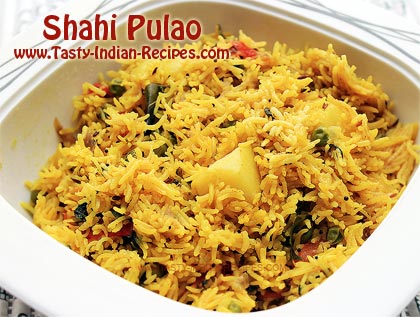 Preparation time: 10 minutes
Cooking time: 30 minutes
Servings: 6
Ingredients required for making Shahi Pulao Recipe:
2 cups basmati rice
1 cup paneer small cubes
1/2 cup fresh green peas
1 carrot thinly chopped
1 big onion chopped
2 tomatoes chopped
1 boiled potato (cut into chunks)
6-8 green chillies chopped
1/2 tsp red chilli powder
1/2 tsp turmeric powder
1 cup milk
2 tbsp ghee
Few raisins
Few cashew nuts chopped
Few almond chopped
Salt to taste
Whole garam masala:
2 cloves
1 bay leaf
1 green cardamom crushed
1/2 tsp caraway seeds (shahi jeera)
1 inch cinnamon stick
How to make Shahi Pulao Recipe:
Roast the whole garam masala in a pan without adding oil.
Roast for 2 minutes, leave to cool and then grind to make a smooth powder.
Boil the rice, until 1/2 done, drain the whole water and leave to cool.
Melt the ghee in a pan and add all the vegetables, except paneer.
Add salt and spices. Mix well.
Cook on low flame for 4 minutes.
Add the grounded whole garam masala powder.
Mix well and add milk.
Stir for one minute and then add the cubes of paneer and rice.
Cover the pan with the tight lid.
Leave to cook at least for 12 minutes on low flame.
Finally garnish with raisins, cashew nuts and almonds.
Chef Tips:
Here milk is for shahi flavor of the pulao, you can substitute it with the water.
Add vegetables of your choice.
You can use the pressure cooker for making shahi pulao, make sure the quantity of water should be perfect, otherwise they will become mushy in the cooker and the rice will become sticky.