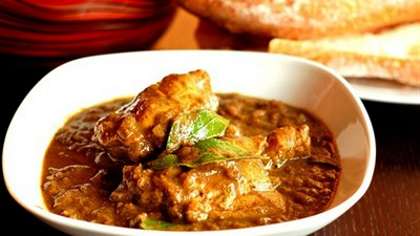 Making Sri Lankan Chicken Curry at home is really an art. It is very important to blend the chicken pieces into the spicy palate of coconut milk, ghee, garlic and coconut cream.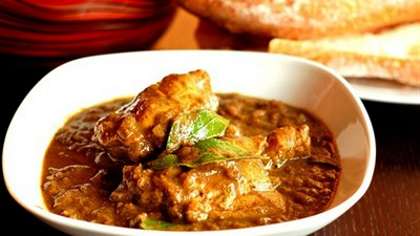 Preparation time: 15 minutes
Cooking time: 50-55 minutes
Servings: 6
Ingredients:
500 gm chicken pieces (buy chicken on bone)
5-6 cloves crushed garlic
4 green chillies (cut into lengthwise)
1 tsp ginger minced
1 medium size onion chopped
3 tbsp pure ghee
1/2 tsp turmeric powder
1 tbsp coriander powder
2 tsp fresh lemon juice
1/2 cup coconut cream
1-1/2 cups coconut milk
1 tsp grated coconut to garnish
Salt to taste
How to make Sri Lankan Chicken Curry:
Clean the chicken and cut into big chunks.
Melt the ghee in a deep non-stick pan and add chopped onion.
Fry till onion translucent and add ginger, garlic and green chillies.
Saute for 1-2 minutes and then add pieces of chicken.
Mix the salt and spices very well into the chicken.
Add coconut milk and simmer the flame.
Bring the chicken onto boil and cover the pan with lid.
Leave to cook for 30-35 minutes, till the chicken tenders.
Finally add fresh coconut cream and sprinkle the lemon juice.
Cook only for last 5 minutes.
While serving, garnish the chicken with some grated coconut.
Serve hot with roti or jeera rice.