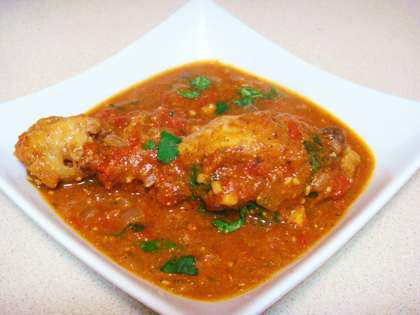 Chicken Leg Curry is one of the most delicious curry recipe, here chicken is cooked in the unique marinade of curd and fresh cream. The ultimate Indian spices are ready to give the mind blowing flavor to the dish.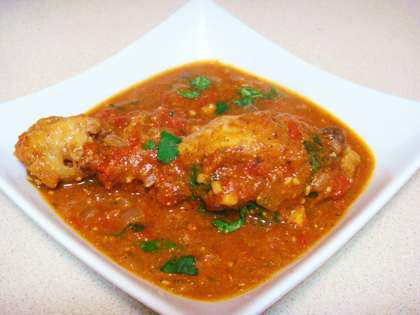 Preparation time: 12 minutes
Cooking time: 35 minutes
Servings: 4 persons
Ingredients:
5 chicken legs
2 tbsp curd
1/2 tbsp fresh cream
1 big onion thinly chopped
1 big tomato thinly chopped or pureed
1 tsp ginger paste
1 tbsp garlic paste
2 green chillies chopped
1 dried Kashmiri red chilli
1 bay leaf
1/2 tsp cumin seeds
1/2 tsp red chilli powder
1/4 tsp turmeric powder
1-1/2 tsp coriander powder
1 tsp garam masala powder
A pinch of black pepper powder
Vegetable oil
Salt to taste
How to make Chicken Leg Curry:
Wash and clean the chicken legs thoroughly in warm water.
Combine the yogurt, salt, black pepper powder, fresh cream and turmeric powder.
Coast the chicken legs evenly in the marination.
Keep aside at least for 30 minutes.
Heat 2 tsp oil in a pan.
Add kashmiri red chilli, bay leaf and cumin seeds.
Saute for few seconds and add ginger-garlic paste and green chillies.
Fry for few seconds and immediately add chopped onion.
Fry until onion turns into light golden brown in color.
Add thinly chopped tomatoes, salt and red chilli powder.
Mix well and cook until the nice of color of curry comes out.
Add 2 cups of water along with the chicken.
Mix well, add coriander powder and garam masala powder.
Cover the pan and bring the curry to few boils.
Leave to cook on low flame for 4-5 minutes.
Serve hot with roti or rice.
Chef Tips:
Add more water to make more curry recipe, but bring to few boils. Else add hot water in the dish and stir.
At the time of serving you can serve the dish with the nuts, cilantro and mint leaves.