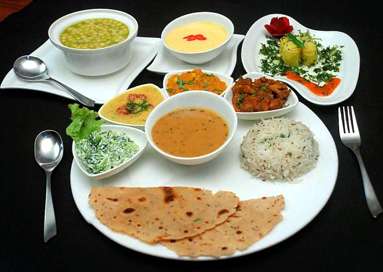 Gujarat is a state in western India and Gujarati cuisine (Gujarati: ગુજરાતી ભોજન) is one of the famous Indian cuisine. It is primarily a vegetarian cuisine, despite of having an extensive coastline for seafood, due to the influence of Jain vegetarianism and traditional Hinduism.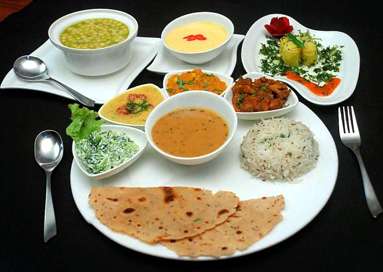 A traditional Gujarati Thali is the most famous typical Gujarati Thali, consists of Roti, Dal or Kadhi, Rice, and Shaak/Sabzi (a dish made up of different combinations of vegetables and spices, which may be spicy or sweet). North Gujarat, Kathiawad, Kachchh, and Surti Gujarat are the four major regions of Gujarat and they have their own style of making Gujarati food.
Most of the Gujarati dishes are distinctively sweet, salty, and spicy. Gujarati's are expert in making homemade Khichdi (rice and lentil or rice and mung bean), and chaas (buttermilk) with variety of pickles as a side dish. Main dishes are based on steamed cooked vegetables with different spices and dals that are added to a vaghar. Vaghar is a mixture of spices sterilized in hot oil that varies depending on the main ingredient.
Salt, sugar, lemon, lime, and tomato are used frequently to prevent dehydration in the areas of Gujarat, where temperatures reaches 50°C (122°F) in the shade. Gujarati's generally add sugar or jaggery to some of their sabzi/shaak and dal dishes. The sweetness and the sweet flavor of these dishes is the main factor to neutralize the slightly bland taste of the vegetables.
Gujarati's are expert in making seasonal food, E.g, In summer, when mangoes are ripe and widely available in market, then Keri no Ras (fresh mango pulp) is often an integral part of the meal. Not only this, but also spices are being changed as per the season. E.g, Garam Masala and its constituent spices are used less in summer.
Regular fasting and daily diets limited to milk, dried fruits, and nuts are very common. Bhakri ki roti (thick roti) made of wheat flour, garlic chutney, onion, and chaas is a popular meal in many villages situated near Saurashtra. It is a good source of energy for low-income villagers who are working very hard in their fields during cold days.
As per the time changed, some Gujaratis have changed their taste as well and they now become increasingly fond of very spicy and fried dishes. There are many chefs who have come up with fusions of Western and Gujarati food. Gujaratis are predominantly vegetarians even though some people likes to eat non-veg and some pockets of the state consume chicken, beef and fish.
Some famous sweet dishes and desserts are made with local sugarcane, jaggery (a solid made from unrefined cane sugar), milk, almonds, and pistachios. And they are most often served served at weddings and family occasions as an instant energy booster for relatives who are traveling long distances to attend.
Gujarati cuisine is also distinctive in its wide variety of farsan, which are highly served alongside of main meal. Some famous Gujarati farsan can be served as a snacks, tea time dishes or as a light meal.
If you will ask Gujaratis about their recommendation, they will often refer Dal-Bhat-Rotli-Saak as their standard, everyday fare. They generally served this exclusive Gujarati dish on their special occasions.
If you have ever seen Gujarati Thali, then you might remember the number of items placed on their Thali. Gujarati Thali contains a dozen or more separate items. Dietary rules dictate the acceptable combination of dishes. For example, if kadhi is to be served, then a lentil preparation such as chutti dal, vaal, or mug ni dal will also be included.
The sweet dish accompanying kadhi will likely be milk or yogurt–based, like doodhpak or shrikhand. However, a yogurt-based raita would not be served with such a meal. Festive meals based on dal will typically have a wheat-based sweet dish like laasi or ladoo as the sweet accompaniment.
Many Gujarati families make and consume moong dal in their diet on Wednesdays. Similarly, there are established combinations of spices, thought to facilitate digestion, that are used with different foods.
In coastal Gujarat, the Kharwa community has developed a cuisine consisting of fresh and dried fish. The most widely relished varieties of seafood are pomfrets, khandwas, gedadas, surmai, prawns, crabs, lobster. and narsinga (calamari).
Gujarati cusine has special place all over India. Gujarati cooking consists of dal, bhaat( rice), vegetables, chapatis, kachumbar( mixed vegetables salad), papad and curd. Gujarati food is nourishing and balanced. Snacks like dhokla, khandvi, sweets like basundi are famous for its taste.
Following are some of the tempting Gujarati dishes, can be easily made at home.