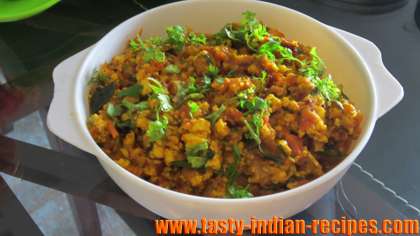 Makai Na Bharta is the fresh and healthy bharta recipe, simply cooked with fresh corns, tomatoes and spices. It is one of the best Gujarati bharta dish, that makes a perfect meal when served with roti, puri, naan or Indian paratha.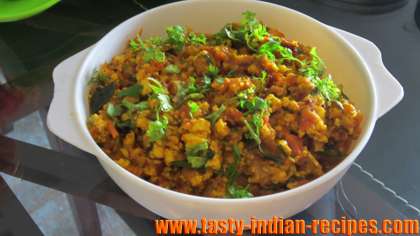 Preparation time: 8 minutes
Cooking time: 20-25 minutes
Servings: 4
Ingredients:
2 cups fresh corns
2 green chillies finely chopped
1 big onion finely chopped
3 tomatoes finely chopped
1 tsp red chilli powder
1 tsp coriander powder
1/2 tsp turmeric powder
1 tsp garam masala powder
1 tbsp cumin seeds
2 tbsp cooking oil
Fresh coriander leaves chopped
Salt to taste
How to make Makai Na Bharta :
Boil the corn and grind then into a coarse mixture.
Heat the oil in a non-stick pan and add cumin seeds and green chillies.
Saute for few seconds and then stir in with the chopped onion.
Fry on medium high flame until onion translucent and turns into little brown.
Add tomatoes, corn, salt and spices.
Stir fry for 3-4 minutes over moderate heat until a nice color of bharta comes out.
After few constant mixing, add 1 cup of water and stir fry for 6-8 more minutes.
Garnish with chopped coriander and serve hot.