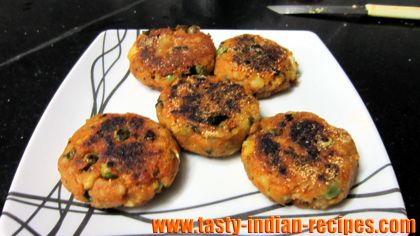 The legendary Paneer Cutlet is a great snack for any occasion. Cutlet stuffed with paneer and other vegetables makes a perfect side dish for your guests as well. You can mix your favorite vegetables, as cutlets are always very tasty to resist. Read the way I have made it.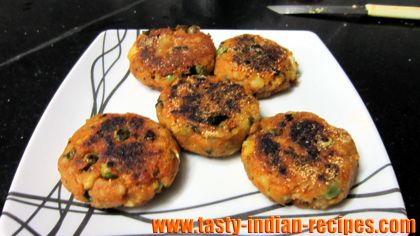 Preparation time: 20 minutes
Cooking time: 12 minutes
Servings: 6 persons
Ingredients:
250 gms paneer grated
5-6 boiled potatoes mashed
1 small onion chopped
1 small carrot grated
2 tsp ginger-garlic paste
4-5 green chilli paste
1 tsp red chilli powder
1/2 tsp white pepper powder
4-5 curry leaves chopped
1/2 tsp mustard seeds
1/2 tsp cumin seeds powder
1/4 tsp black pepper powder
1/4 tsp chaat masala
Salt to taste
Cooking oil for deep fry
Fresh cilantro leaves chopped
How to make Paneer Cutlet:
In a mixing bowl add mashed potatoes, grated paneer, finely chopped onion and carrot.
Mix all the ingredients well in a bowl.
Add salt, red chilli powder, white pepper powder, black pepper powder, cumin
seeds (jeera) powder and chaat masala powder.
In a saucepan add 1 tsp of oil, as oil heats add curry leaves, mustard seeds, as they start crackling, add ginger-garlic paste and green chillies, saute them well.
Pour this fried masala into a bowl of  mashed vegetables.
Add chopped cilantro leaves and mix properly.
Make the small balls and flatten them in the shape of cutlet.
Deep fry in a hot oil on medium flame till they are golden brown.
Serve hot with green chutney.
Chef Tips:
If you are diet conscious and want to try these cutlets, but scared from deep fry then you can make them on non-stick griddle (tawa) as well.
Drizzle little bit of oil and place these cutlets, get a good brown color and turn them, again drizzle very little oil, cook them on low heat, your cutlets will be ready in 8-10 minutes.
You can also add bread crumbs to get a good fry.
You can try to make this cutlet with mashed soya chunks also.