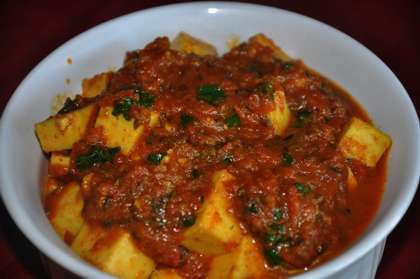 Paneer in Black Bean Sauce is a unique combination of paneer, vegetables and Chinese sauces. It is a delicious special Indo Chinese recipe. Very few restaurants in Mumbai serve Paneer in Black Bean Sauce. You can make black bean sauce at your home also, but here I'm using ready to use black bean sauce for making it quickly.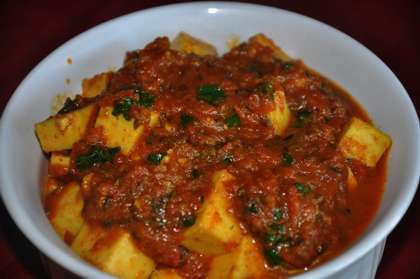 Preparation time: 4 minutes
Cooking time: 8-10 minutes
Servings: 4
Ingredients:
500 gms paneer (cut in cubes)
1 cup spring onions (white) chopped
4-5 green chilies chopped
2 tsp garlic paste
1 tsp ginger paste
1 tsp celery chopped
1 capsicum (diced)
1 cup spring onions(green)chopped
1 tsp soy sauce
2 tsp black bean sauce(easily available in market)
1 tsp red chilli sauce
1/2 tsp vinegar
1/2 tsp sugar
1/2 tsp ajinomoto
1 tsp white pepper powder
1 tsp black pepper powder
1 tsp cornstarch diluted in 1 cup of water
salt to taste
2 tsp oil
1/2 cup water
How to make Paneer in Black Bean Sauce:
Heat up a wok and add oil.
Add ginger-garlic paste, green chillies and saute well.
Add white part of spring onions, celery and capsicum.
Stir for 2 minutes on high flame.
Now add salt, ajinomoto, white pepper powder, black pepper powder, toss and mix.
Add cornstarch and all 3 sauces, mix well for 2 minutes on high heat.
Add water, vinegar and sugar, toss and mix immediately.
When gravy comes to 2-3 boils, then add paneer and saute for 2 minutes till the sauces and spices coat the veggies and paneer.
Stir to make a thick sauce and garnish with chopped green part of spring onions. Serve hot.
Chef Tips:
Do not add more water. This recipe tastes good in medium thick gravy only.
You can add hoisin sauce, if black bean sauce is not available.