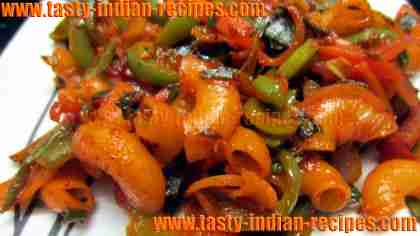 Vegetable Chilli Macaroni is a delightful macaroni recipe made with the boiled macaroni's and lots of tasty vegetables, which are flavored with chillies and sauces. This is an aromatic Indo Chinese snack or appetizer to serve for the empty stomach, because it is so quick in making and extremely tasty in eating.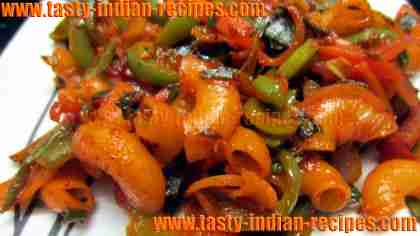 Preparation time: 15 minutes
Cooking time: 6 minutes
Servings: 2-3
Ingredients:
1 big bowl macaroni
1/2 cup white spring onions sliced
1 cup green spring onions chopped
1 green bell pepper sliced
1 red bell pepper sliced
4 green chillies sliced
1/2 cup french beans chopped
1/2 tsp cumin seeds
2 tbsp tomato ketchup
Little bit of soy sauce
1/2 tsp red chilli sauce
A pinch of red-orange color
1/2 tsp vinegar
2 tsp oil
Salt to taste
White Pepper powder to taste
How to make Vegetable Chilli Macaroni:
Boil the macaroni in 3 cups of water for about 3-4 minutes, transfer in the strainer to drain the whole water.
Now pour cold water over the boiled macaroni's to make them fluffy and puffy.
Heat a non-stick pan, add oil.
When the oil starts heating then add cumin seeds and green chillies.
Saute for few seconds. Now add all the vegetables one by one except green spring onions..
Add salt and pepper powder as per the taste.
Add boiled macaroni and toss with the sauces and ketchup.
Cook on low flame for 3-4 minutes by stirring continuously.
Finally add green spring onions, red-orange color and vinegar.
Mix well. Cook for 2 more minutes and serve immediately.
Chef Tips:
Serve this delicious Chinese style macaroni immediately, else it will become tasteless.
You can add chopped carrot and cauliflower, if you require more vegetables to add.