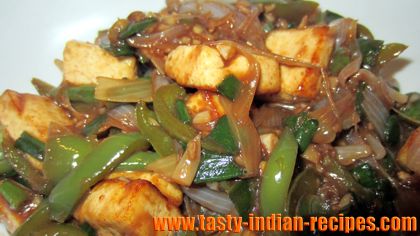 Peppy Paneer is the spicy and tangy Indo Chinese starter dish, made with Indian cottage cheese and vegetables and then flavored with delicious Chinese sauces. It is a great starter or appetizer which can be eaten as it is or with the fried rice.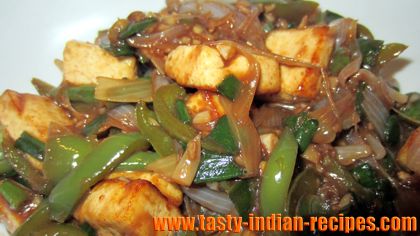 Preparation time: 10 minutes
Cooking time: 20 minutes
Servings: 4
Ingredients:
300 gms paneer cubes
1 green bell pepper slices
1/2 cup spring onions white
1 cup spring onions green
1 cup broccoli blanched
1/2 carrot sliced
Few black olives
8 cloves garlic minced
1 inch ginger chopped
2 green chillies sliced
1/2 tsp soy sauce
1 tsp red chilli sauce
1 tbsp tomato ketchup
1/2 tsp white pepper powder
1/4 tsp black pepper powder
1/2 juice of fresh lemon
2 tsp vegetable/olive oil
Salt to taste
How to make Peppy Paneer:
Heat a pan and add oil.
Add all the vegetables one by one and saute for few seconds except green onions.
Now add salt, green chillies, ginger and garlic.
Mix well and cook for about 3 minutes.
Stir with the sauces, ketchup,white and black pepper powder.
Leave for 1 minute on low flame.
Now add cubes of paneer, also drizzle lemon juice.
Toss very carefully and coat the paneer into all veggies and spices.
Check the taste and adjust the salt and spices.
Now add green onions, mix well. Cook for one more minute and serve hot.
Chef Tips:
If you do not get broccoli then add cauliflower florets.
White spring onions can be substituted with normal onion.
If you do not have green spring onions then garnish with the parsley, celery or cilantro.
To make this dish more thick in consistency you may add little bit of cornflour.