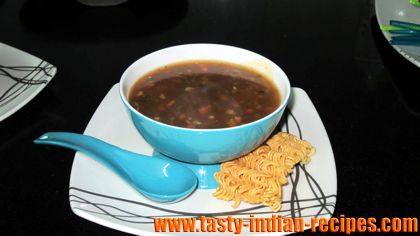 Sichuan Chicken Noodle Soup is the flavored Indo Chinese soup made with chicken, noodles, vegetables and sauces. This is one of the best and delicious soup having all the flavors of vegetables and mushrooms.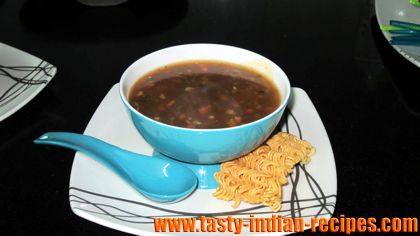 Preparation time: 15 minutes
Cooking time: 15 minutes
Servings: 4 persons
Ingredients:
200 gms chicken (boneless)
2 cups noodles boiled
2 tbsp cornflour
1 cup cabbage grated
1/2 carrot (peeled and shredded)
2 tbsp french beans chopped
1/2 cup celery chopped
2 tbsp white spring onions
2 tbsp green spring onions
1/2 cup bean curd (tofu) squares
4-5 mushrooms chopped
1 tbsp vinegar
A pinch of sugar
1 tsp red chilli sauce
1/2 tsp soy sauce
3-4 peppercorns crushed
4 cups chicken stock
2 tbsp oil
Salt to taste
How to make Sichuan Chicken Noodle Soup:
Wash the chicken thoroughly and cut into small pieces.
Dilute the cornflour in one cup of water.
Heat the oil in a wok, add all the chopped vegetables except green spring onions.
Add salt, soy sauce, chilli sauce and sugar.
Cook for 2-3 minutes on high flame.
Add cornflour with the water, peppercorns, mushrooms and noodles.
Mix well, cook for 5 minutes.
Add chicken along with chicken stock.
cook for 5 more minutes.
Finally toss with vinegar, leave for few boils.
Garnish with spring onions and serve piping hot soup.
Chef Tips:
Use normal onion if spring onion is not available.
You can use parsley for garnishing.
Make this soup on medium high flame and stir continuously to get the nice flavor.