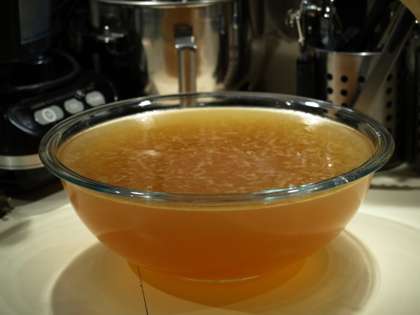 Chicken Stock is made with the leftover chicken bones and vegetables. The chicken bones and vegetables are boiled and then strained to make the easy home made chicken stock having the low fat value. Most of the chicken dishes can be flavored with the chicken stock. Here you can learn that how to do the best use of the bones of chicken if you do not want to throw them out.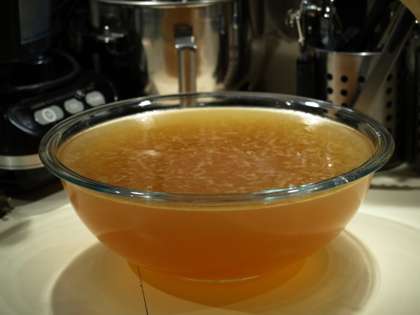 Preparation time: 15 minutes
Cooking time: 4 hours
Servings: 2 big jars
Ingredients:
250 gms leftover chicken bones
1/2 cup carrot chopped
1 onion chopped
2-3 celery stalks roughly chopped
2-3 parsley stalks roughly chopped,
4-5 cloves
4 black peppercorns
1 bay leaf
12 cups of water
How to make Chicken Stock:
Boil the leftover chicken bones in the water for about 6-7 minutes.
Drain and discard the whole water.
Now put these bones into a large stock pot along with the water and add carrot, onion, celery, parsley.
Simmer the flame and bring the stock for the few boils.
Stir occasionally and add salt, cloves, peppercorns and bay leaf.
Do not cover the pot and leave the stock to get ready, which will take at least 4 hours.
Skim off the foam which is rising on the surface.
Remove the bones from the stock and strain.
Allow to cool and pour the chicken stock into the jars.
Then refrigerate it.
Chef Tips:
You can refrigerate chicken stock for a week.
You can also freeze it for few months and use whenever required.
This chicken stock can be used for making the delicious soups such as Chicken Noodle Soup,Sweetcorn Chicken soup, Sichuan Chicken Noodle Soup, etc.