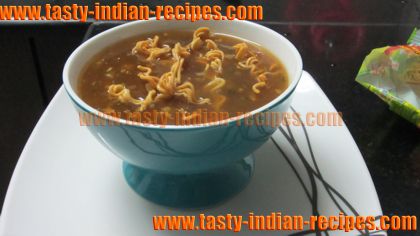 Chicken Noodle Soup is the yummy soup made with the boneless chicken breast, noodles and the veggies. The soup is flavored with the rich coconut milk and peanut butter. Learn to make easy and the exotic soup recipe in just few minutes.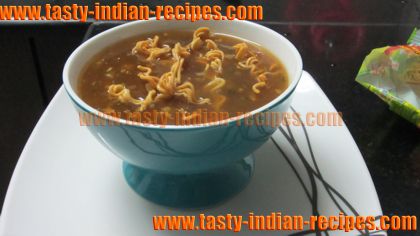 Preparation time: 10 minutes
Cooking time: 10 minutes
Servings: 4 persons
Ingredients:
1 chicken breast (boneless)
4 cups chicken stock
2 cups noodles (broken into small pieces) boiled
2 tbsp spring onions (white ) chopped
1 cup spring onions (green) chopped
1/2 tsp garlic paste
1/2 inch ginger minced
2 tbsp coconut milk
1 tsp crunchy peanut butter
1/2 tsp fresh lemon juice
2 tsp vegetable oil
Salt to taste
How to make Chicken Noodle Soup:
Wash and clean the chicken in normal running water and cut into tiny pieces.
Heat the oil in a pan and add ginger and garlic.
Saute for few seconds, add the white spring onions and cook until light golden brown.
Add the pieces of chicken along with the chicken stock. Mix well.
Add salt, peanut butter and coconut milk.
Bring this mixture to few boils.
Add the boiled noodles, lemon juice and green spring onions.
Cook for couple of minutes and leave to stand for two minutes.
Serve the piping hot chicken noodles soup.
Chef Tips:
For making it more spicy, you may add green chillies.
Add water if chicken stock is not available.