Sweetcorn Chicken Soup Recipe is made from Shredded Boneless Chicken Breast, Sweet Corns and some Vegetables. It is one of the Healthy Indian Soup Dish.
This Soup has all the wholesome flavors of Chicken, Corns and Vegetables. Some people likes to add Chinese Sauces in it. You can do that too. I have made a simple version of this soup with the ingredients which were in my hand. It turned very tasty and we all enjoyed it.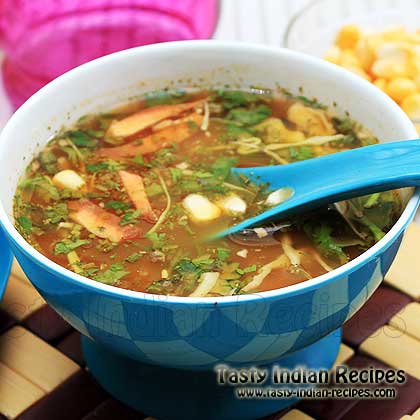 How to make Sweetcorn Chicken Soup:
Sweetcorn Chicken Soup Recipe
Sweetcorn Chicken Soup Recipe is the famous Indian Soup Dish made with Shredded, Boneless Chicken Breast and Sweet Corns. We can add more vegetables for enhancing its flavors.
Ingredients
1/2 chicken breast (boneless)
1 cup sweetcorn kernels
2 cups chicken stock
1/2 cup cabbage shredded
1/2 carrot, sliced
1/2 cup spring onions (white)
1 teaspoon coriander leaves, finely chopped
2 green chillies chopped
1/2 tsp sugar
1/2 tsp pepper powder
1/2 tablespoon vegetable oil
Salt to taste
Instructions
Wash and clean the chicken thoroughly in normal running water. Boil the chicken and shred.
Mix the cornflour in 1 cup of water and keep aside.
Heat the oil in a pan, add green chillies, cabbage, carrot, white spring onions.
Add salt and stir fry for the few seconds.
Add chicken along with the chicken stock. Bring this mixture to few boils and then add kernels and cornflour.
Mix ans stir continue to cook for 3-4 more minutes. Finally add sugar, pepper powder and coriander leaves. Cook on high heat for 2 minutes until soup thickens. Serve hot.
Notes
You can add your favorite vegetables in this soup. You can avoid adding sugar in it.
Tasty Indian Recipes
Chef Tips:
Read how to make Chicken Stock at home.
You can add water instead of chicken stock.
You can add vegetables of your choice.
You can add some spring onions greens for more flavors.
Stir continuously to avoid the lumps.