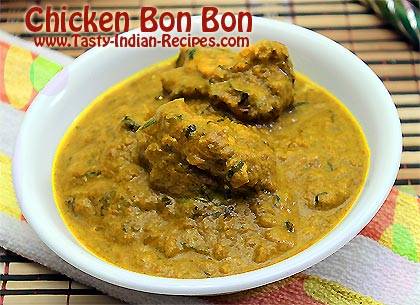 Chicken Bon Bon is the special preparation of shredded chicken in bon bon sauce. Bon Bon sauce is simply a blend of cucumber, seeds, soy sauce and vinegar, it can be easily made at home. Learn to make the delicious chicken bon bon in homemade bon bon sauce.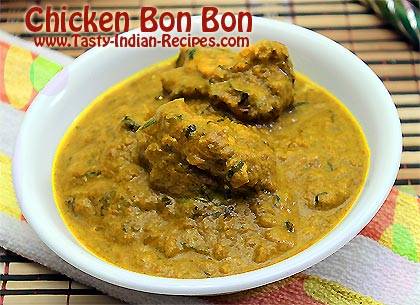 Preparation time: 5 minutes
Cooking time: 20 minutes
Servings: 4
Ingredients:
400 gms chicken pieces
1 tbsp ginger-garlic paste
1/2 tsp vinegar
1 tsp dark soy sauce
2 tsp red chilli paste
1 cup cucumber chopped
1/2 tsp sugar
1/2 tsp white sesame seeds
1/2 tsp poppy seeds
1 green cardamom
1/2 tsp black pepper powder
2 tbsp spring onions
1 tsp butter
Salt to taste
How to make Chicken Bon Bon:
Combine all the ingredients in the grinding bowl and keep chicken pieces aside.
Grind to make a smooth paste, add little bit of water and grind again for a minute.
Place a foil paper in oven baking tray.
Arrange pieces of chicken in oven baking tray and pour the bon bon paste or sauce over it.
Bake in the oven for about 15 minutes.
Serve hot with rice or roti.
Chef Tips:
If you do not have oven, then you can make this dish in non-stick pan as well.
Vinegar can be substituted with lemon juice.