Moong Dal Sandwich Recipe is the simple Sunday Breakfast Delight, that I made yesterday for guests. I simply cooked Yellow Moong Dal and served on top of the Sandwich, which was stuffed with Boiled Potatoes. You can either use plain or toasted sandwich for this, the important thing that matters here is properly cooked moong dal.
This Sandwich is considered as a comfortable Indian Breakfast and sometimes a wholesome meal, because here you have a tasty stuffed sandwich, topped with cooked moong dal. If you want, you can garnish it with some fine chopped onion, beetroot, tomato, Coriander Chutney and Tamarind Chutney as well.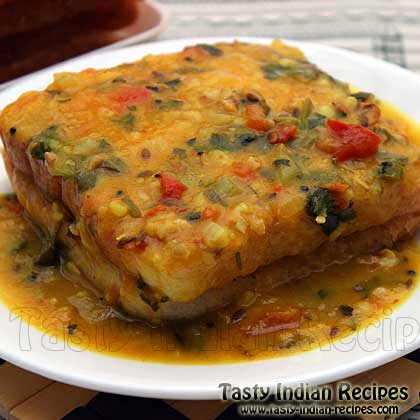 First time, I tasted this Moong Dal Sandwich in the house of one of my Sindhi friends, and her mom told me that sometimes they cook only yellow moong dal and sometimes whole moong with yellow dal. This sandwich is their common breakfast. You can serve this Dal Recipe with Poori, Paratha and Steamed Rice as well.
We all are big fan of sandwiches and I normally make variety of Sandwich Recipes at my home with the vegetables available. I personally liked this different kind of Sandwich, hence thought to share with all of you. Let's start making Sindhi Style Moong Dal Sandwich Recipe.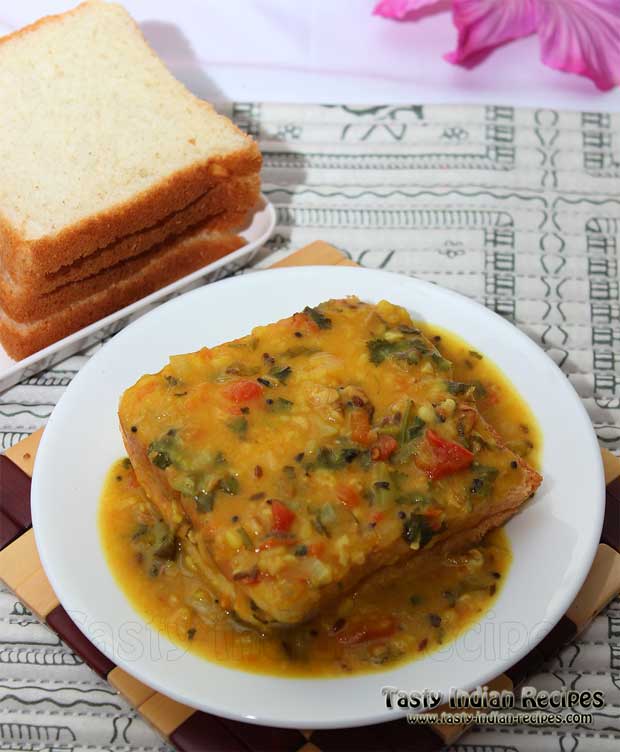 How to make Moong Dal Sandwich Recipe:
Moong Dal Sandwich Recipe
Moong Dal Sandwich Recipe is the simple Indian Breakfast. Here Sandwich is stuffed with tasty mixture of Boiled Potatoes and topped with Yellow Moong Dal.
Ingredients
1 cup cooked Yellow Moong Dal
8 bread slices (white or brown)
2 medium potatoes, (boiled and peeled)
1 small onion, finely chopped
2 green chilies, finely chopped
1/2 teaspoon red chili powder
1/2 teaspoon turmeric powder
1/2 teaspoon dry mango powder (amchur powder)
Few fresh coriander leaves, finely chopped
Oil or butter for toasting the sandwich
Salt to taste
Instructions
Mash the boiled potatoes in a big bowl and mix in 2 finely chopped green chilies, 1/2 teaspoon red chili powder, 1/2 teaspoon turmeric powder, 1/2 teaspoon dry mango powder, freshly chopped coriander leaves and salt to taste. Mix all the ingredients nicely.
Now take bread slices and divide the mixture in 4 equal portions and spread on 4 bread slices, cover with another bread slice and toast on tawa with some butter or oil.
When the toast becomes little golden brown in color, place it on a serving plate and top with good amount of cooked Yellow Moong Dal.
Your Moong Dal Sandwich is ready for serving.
Notes
You can make this Sandwich with three bread slices as well, and then you need to make two layers of stuffed potatoes mixture. You can enjoy this sandwich with or without toasting. You can even use leftover cooked dal of lunch for making this sandwich in dinner. Finely chopped Onion, tomato, Coriander Chutney and Tamarind Chutney can be used as a topping to enhance more flavors of the sandwich. You can spread some Green Chutney on all bread slices and then stuff it with the mixture of boiled potatoes. I used white bread, you can use whole meal bread also. You can cut the sandwich in triangles for serving.
Tasty Indian Recipes