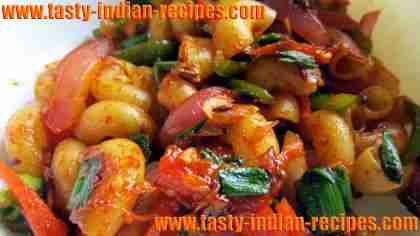 Spicy and Tangy Macaroni is a delicious snack dish. Here macaroni is cooked with few vegetables and sauces to spread a tremendous and irresistible taste. You may adjust the spices specially if you are serving to your kids. But I'm sure that after reading this recipe you will definitely add it in the menu of school tiffin of your children.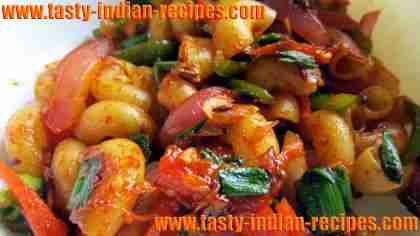 Preparation time: 5 minutes
Cooking time: 10 minutes
Serving: 2
Ingredients:
1 bowl macaroni
1/2 cup carrot shredded
1/2 onion thinly sliced
1/2 capsicum thinly sliced
3 cloves garlic chopped
1 green chilly chopped or sliced
1/2 bowl green spring onions chopped
1/2 tsp cumin seeds (jeera)
1/4 tsp red chilli sauce
2 tbsp tomato sauce or ketchup
1/2 tsp vinegar
2 tsp oil
Salt to taste
How to make Spicy and Tangy Macaroni:
Boil the macaroni in 2-3 cups of water and keep stirring until they are soft.
Drain the whole water and keep aside.
Heat a pan, add oil.
Add green chillies and cumin seeds. Saute for few seconds.
Now add chopped garlic and saute well.
Add carrot, capsicum and onion.
Also add salt. Mix well and simmer the flame.
Add boiled macaroni, red chilli sauce, tomato ketchup and vinegar. Higher the flame to cook the veggies until tender.
Toss quickly and cook for about 2 more minutes.
Finally add green spring onions and serve.
Chef Tips:
If serving for adults then add more spices, otherwise for kids avoid the spices.
While boiling the macaroni keep stirring with the spoon else the macaroni will get stuck in the bottom of the vessel.
You may substitute the spring onions with celery or fresh cilantro.