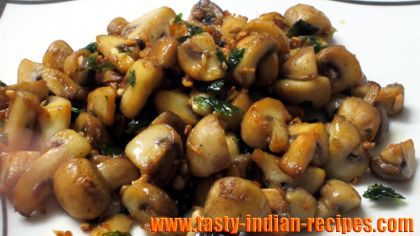 Garlic Mushroom is the nice preparation of button mushrooms in huge amount of garlic. It is a classic Chinese appetizer which is exclusively tasty and mouth melting. Once I had this dish with my husband in one of the restaurant. After eating I realized that how garlic with mushroom is going so well and creating the incredible taste, so I definitely wanted to try that. I tried and fortunately got the success because of easy and limited ingredients used in this dish.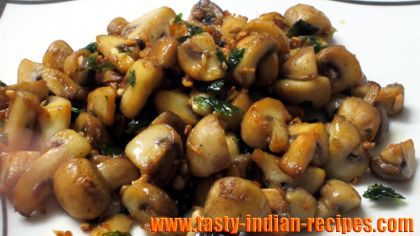 Preparation time: 7 minutes
Cooking time: 7 minutes
Servings: 4 persons
Ingredients:
400 gms button mushrooms (tinned or fresh)
10-12 garlic cloves crushed or minced
2 tsp butter
4 green chillies chopped
1/2 tsp soy sauce
1/2 tsp hot garlic sauce
1/2 tsp roasted cumin
1/2 tsp black pepper powder
1 tsp mixed herbs
Salt to taste
How to make Garlic Mushrooms:
Wash the mushrooms in Luke warm water, cool and each one cut into  2-3 slices.
Melt the butter in a pan and add green chillies. Saute just for 3 seconds.
Do not saute more else butter will get burnt.
Add mushroom and salt. Cook on medium high heat for 2-3 minutes.
Add soy sauce and hot garlic sauce. Mix well.
Stir them continuously and add 1/2 cup of water.
Now add garlic, mix well and cover the pan with a tight lid for about 8-10 minutes.
Stir couple of times in between.
Uncover the pan and add black pepper, roasted cumin and mixed herbs.
Cook for 2 more minutes.
Check by testing the tenderness of mushrooms.
Also do not leave the raw flavor of garlic.
Serve with hot sauce or hoisin sauce.
Chef Tips:
Try to serve garlic mushroom within 10 minutes, otherwise mushroom will sweat and become tasteless.
I have added roasted cumin because of its aroma which spread all over, otherwise it is optional ingredient.