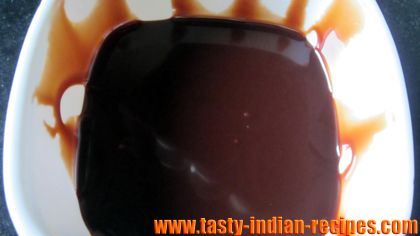 Liquid Chocolate is simply made with the good amount of fresh cream and whole chocolate. Most probably the ratio should be equal i.e 1:1. Liquid Chocolate can be used to make flawless cakes, brownie's, Ice creams, etc.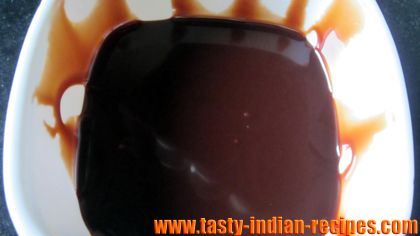 Preparation time: 2 minutes
Cooking time: 25-30 minutes
Servings: 1 small bowl
Ingredients:
300 ml fresh cream
300 gms whole chocolate
1 cup sterilized milk
100 gms cocoa powder
How to make Liquid Chocolate:
In a heating pan add the fresh cream and stir continue until few boils.
Now mix the chocolate and cocoa powder.
Stir until they melts well in the cream.
Pour a cup of milk and stir continue for 2 more minutes.
Check the consistency before turning the gas off, as the consistency should be liquefying enough.
Liquid Chocolate is ready to use.
Chef Tips:
Taste the liquid chocolate and you may adjust with the sugar.
If your chocolate is not melting well then keep over the double boiler, in this way it will get melted properly.
If your liquid chocolate is too thick then add more amount of sterilized milk and then stir at the time of using.
Liquid Chocolate can be poured on top of the vanilla ice cream to make it more delicious.
You can use this liquid chocolate to make brownie with ice cream recipe, you just need to pour it hot.