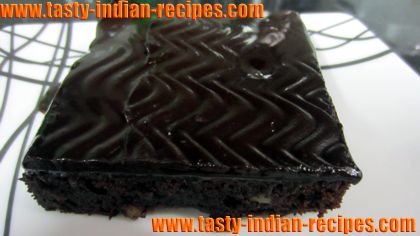 Brownies are the tiny yummy cakes made with cocoa powder, butter, flour, etc. The hot yummy brownies are enough to serve as the best desserts. Learn to make delicious homemade brownies and use them to make variety of cakes and desserts in your own kitchen.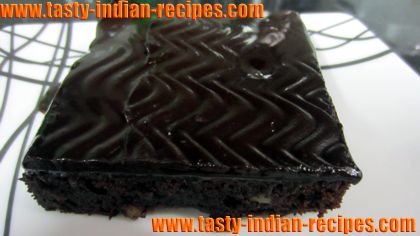 Preparation time: 20 minutes
Baking time: 50 minutes
Servings: 6-8 brownies.
Ingredients:
2 cups maida (all purpose flour)
4 cups brown sugar
1-1/2 tbsp vanilla extract
1-1/2 cup butter
3/4 tsp baking soda
1-1/2 cups chocolate chips
1-1/2 cup cocoa powder
5 eggs
3/4 tsp salt
How to make Brownie:
Melt the butter in a pan or in microwave.
In a bowl combine the flour, soda, salt and cocoa powder. Sift thoroughly.
Beat the eggs in a bowl, mix well and mix in the flour.
Now combine the melted butter, vanilla and sugar in a bowl. Mix until well blended.
Preheat the oven to 250oF for 6-7 minutes.
Take out the baking tray from the oven and grease with little amount of butter.
Mix the chocolate chips in the flour and gradually stir the mixture of butter with the mixture of flour.
Stir thoroughly until well blended.
Now spread the batter into the prepared pan.
Slightly mold from the sides to bake well.
Bake for about 45-50 minute.
After 50 minutes check by inserting toothpick, if it comes out clean, it means your brownies are ready to serve.
Chef Tips:
You may Toss the chocolate chips in a light dusting of flour and then mix in the batter, it will prevent its sinking in the bottom.
You can refrigerate these brownie's for 5-6 days.
This hot brownie is ideal to serve with a glass of milk.
You can also use it for making brownie with ice cream recipe.