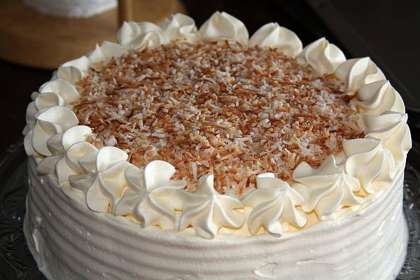 Coconut Cream Cake is a mouth watering, icy cool cake recipe made with huge amount of coconut, cream, butter, milk and plenty of flavorful ingredients. This is one of the most wonderful cakes to make and to enjoy the occasions.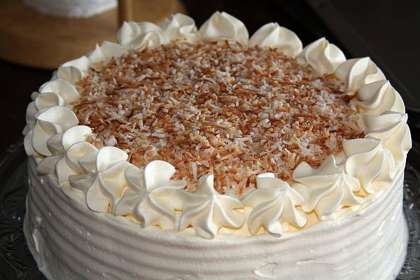 Preparation time: 15 minutes
Cooking time: 35 minutes
Servings: 6-8
Ingredients:
2 tbsp coconut extract
150 ml coconut cream
1 liter condensed milk
4 tbsp sugar
500 gms white cake mix
2 tbsp flaked coconut
1 tbsp butter
2 eggs
1 tsp margarine or butter
4 tbsp fresh cream
How to make Coconut Cream Cake:
Beat the eggs in a bowl and keep aside.
In a big bowl combine the cake mix, coconut extract, coconut cream, milk, sugar and butter.
Mix well and stir with the beaten eggs.
Keep aside for 15-20 minutes.
Preheat the oven to 450F degrees, grease the baking tray with margarine or butter.
Pour the prepared mixture into the baking pan or tray.
Bake for about 25-35 minutes.
Check the softness of the cake with the toothpick or fork.
When the cake is finally done, then take it out from the oven.
With the help of knife or fork make some holes at a proper distances.
Fill the fresh cream into the wholes and leave to soak it well into the cake.
Refrigerate it for 8-10 hours.
Finally top with the flaked coconut.
Chef Tips:
You can garnish this cake with grated coconut and nuts of your choice.
Adjust the sweetness in the mixture as per your taste.