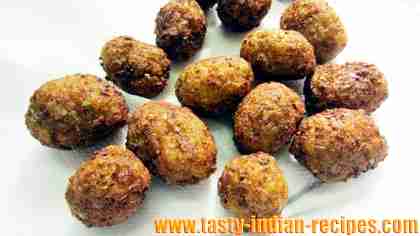 Vegetable Pakora is the combination of several healthy and tasty vegetables, which are mixed into the batter of besan and after deep-frying turns into crispy and tasty snack recipe.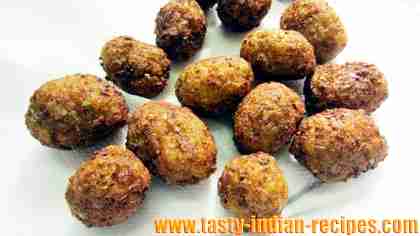 Preparation time: 10-15 minutes
Cooking time: 15 minutes
Servings: 4 persons
Ingredients:
2-1/2 cups bengal gram flour (besan)
2-3 green chillies thinly chopped
1 inch ginger julienne
A pinch of baking soda
1 cup cauliflower thinly chopped
1 cup spinach chopped
1 capsicum thinly chopped
1 medium size potato (boiled)
1 onion thinly chopped
Fresh coriander leaves chopped
1/2 tsp red chilli powder
1/4 tsp dry mango powder
Salt to taste
Oil for frying
How to make Vegetable Pakora:
Combine the besan, salt, green chillies, baking soda, red chilli powder, ginger julienne and dry mango powder.
Mix well and add 1/2 cup of water and make a nice, fluffy batter.
Cover the batter and keep aside for 10-15 minutes until sets.
Finely chop the boiled potato and add in the batter.
Mix all the chopped vegetables very well into the batter.
Also add handful of chopped coriander leaves.
Mix evenly and adjust the batter with salt and little amount of water.
Heat sufficient oil in a non-stick pan.
When the oil seems hot enough then take 1 tsp of hot oil with the help of spatula and pour over the prepared batter.
Mix well and make small balls from the batter, deep fry into hot oil until turns into nice golden brown in color.
Drain on oil absorbent paper.
Serve immediately with green chutney and tomato ketchup.
Chef Tips:
Vegetable Pakore must be served immediately, else becomes soggy in few minutes.
You may add some of your favorite vegetables, but chop them very finely before adding into the batter.
The reason behind adding little bit of hot oil is to make the batter more fluffy, that is required to make crispy and tasty vegetable pakora.