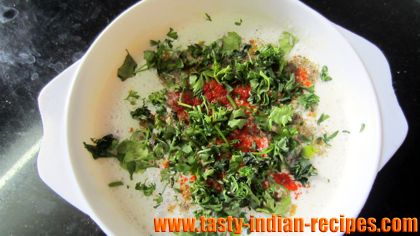 Sprouts and Mixed Vegetable Raita is simply a combination of several tasty vegetables and healthy sprouts , mixed in the beaten curd and then flavored with the spices. This is all time favorite raita, which can be served with the meal on daily basis. This particular raita is full of calcium, proteins and vitamins.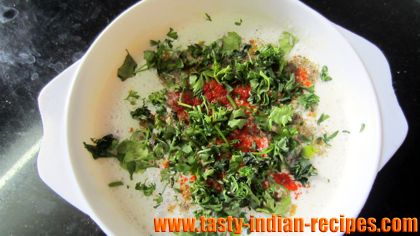 Preparation time: 15 minutes
Cooking time: 5-6 minutes
Servings: 5-6 persons
Ingredients:
1 cup mixed sprouts boiled
1 cucumber (peeled and chopped)
1 cup carrot chopped
1 onion thinly chopped
1 tomato thinly chopped
4 cups curd
2 green chillies chopped
1/2 tsp roasted cumin powder
1/2 tsp black pepper powder
A pinch of chaat masala powder
1/4 tsp red chilli powder
Few coriander leaves chopped
Salt to taste
How to make Sprouts and Mixed Vegetable Raita:
Beat the curd in a big bowl.
Add salt and red chilli powder, keep aside.
Combine the chopped cucumber, onion, carrot, tomato and green chillies.
Mix well, sprinkle little bit of chaat masala and toss.
Mix the boiled sprouts very well with the vegetables.
Now mix the beaten curd in the bowl of vegetables and sprouts.
Add water if required.
Sprinkle some roasted cumin powder and black pepper powder.
Garnish with coriander leaves and serve chilled.
Chef Tips:
Serve this raita chilled to enjoy the meal.
Add water if your raita is too thick at the time of serving.
This raita is ideal to serve with parathas, pulao's and biryani's.