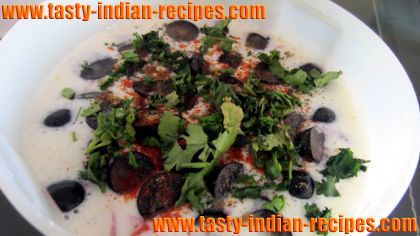 Kale Angoor (Black Grapes) Ka Raita is the delicious tangy flavored raita made with the black grapes and yogurt. This is one of the refreshing raita recipe which have lots of flavor of black pepper, cumin powder and red chilli powder.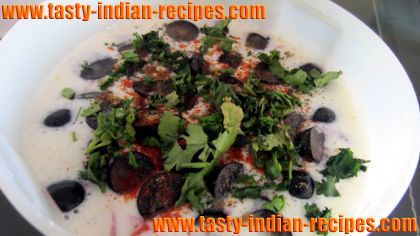 Preparation time: 10 minutes
Cooking time: nil
Servings: 2-3
Ingredients:
300 gms black grapes
2 cups fresh yogurt (curd, dahi)
1/2 tsp black pepper powder
1/2 tsp cumin (jeera) powder
A pinch of chaat masala
1/2 tsp red chilli powder
Fresh cilantro chopped
Salt to taste
How to make Kale Angoor Ka Raita:
Chop the black grapes into 2-3 tiny pieces.
Sprinkle some chaat masala, mix thoroughly and keep aside.
Beat or whisk the curd thoroughly in a big bowl.
Add little amount of water if require.
Now Pour this beaten curd over the grapes.
Add salt, black pepper, cumin powder and red chilli powder.
Spread little bit of cilantro.
Mix well and refrigerate.
Serve chilled.
Chef Tips:
This raita will truly refresh you, if serving chilled.
If your curd is too thick then you may need little amount of water while beating it.
For the lump free raita mixture, blend the curd just for 2 seconds.
If your grapes are sour and very tangy, then add little bit of sugar in the raita.