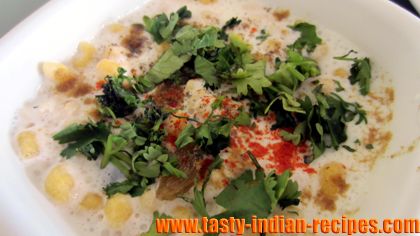 Boondi and Dry Fruits Raita is a healthy and nutritional combination of salted boondi, cashew nuts, almonds and raisins. The beaten curd is mixed in delicious boondi and dry fruits and flavored with the spices.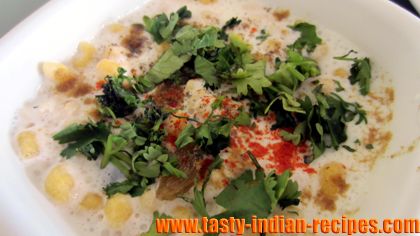 Preparation time: 5 minutes
Cooking time: nil
Servings: 4
Ingredients:
50 gms boondi
4 cups fresh yogurt (curd, dahi)
1/2 cup cashew nuts chopped
1/2 cup almonds chopped
2 tbsp raisins
2 tbsp hazel nuts
A pinch of red chilli powder
A pinch of cumin powder
Fresh coriander leaves chopped
Salt to taste
How to make Boondi and Dry Fruits Raita:
Whisk the curd thoroughly in a bowl.
Combine boondi, cashew nuts, almonds, raisins, hazel nuts and little bit of salt.
Mix well and spread the whisked curd over the boondi and dry fruits.
Mix well. Sprinkle little bit of spices and garnish with coriander leaves.
Keep in the refrigerator and serve chilled.
Chef Tips:
Carefully add the salt in the raita, its because boondi is already salted.
You can mix fruits like pomegranate, plums, cranberries in this raita, also you can add nuts of your choice.
Serve this raita chilled to enjoy at fullest.