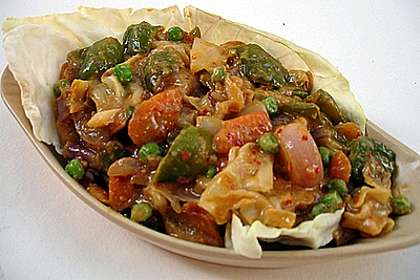 Stir Fried Vegetables in Schezwan Sauce is simply made with the assorted vegetables and then tossed with the schezwan sauce. It is one of the tastiest snack recipes of Chinese Cuisine.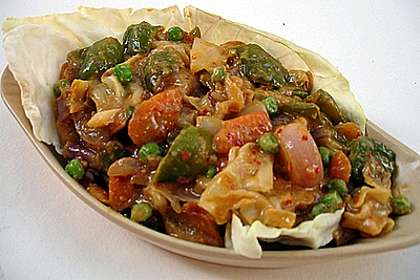 Preparation time: 15 minutes
Cooking time: 7-8 minutes
Servings: 4 persons
Ingredients:
1 cup spring onions white
2 cups spring onion green
1/2 cup french beans chopped
1/2 cup carrot chopped
1/2 cup cauliflower chopped
2 green chillies slits
2-3 cloves garlic minced
1/2 inch ginger minced
1 capsicum sliced
1/2 cup baby corns sliced
2 tbsp cornflour mixed with 1 cup of water
1/2 tsp sugar
1/2 tsp soy sauce
1/2 tsp red chilli sauce
2 tbsp schezwan sauce
1/2 tsp vinegar
A pinch of pepper powder
2 tsp vegetable oil
Salt to taste
How to make Stir Fried Vegetables in Schezwan Sauce:
Boil the baby corns in the water and keep aside.
Heat the oil in a wok, add green chillies and minced ginger and garlic.
Saute for few seconds.
Add all the chopped vegetables.
Add salt, red chilli sauce, soy sauce and sugar.
Mix well and stir fry for few minutes until veggies are tender.
Now add schezwan sauce.
Cook just for a minute and mix the diluted cornflour along with the water.
Also add pepper powder and vinegar.
Toss and stir continuously.
Cook for 2 more minutes and leave for few boils.
Serve hot on the spot.
Chef Tips:
For making this recipe, you just need to high the heat all the time and stir continuously to get the good flavor.
You may add cabbage, broccoli, zucchini or any vegetable of your choice.
Serve this dish immediately, else it will become too dry.