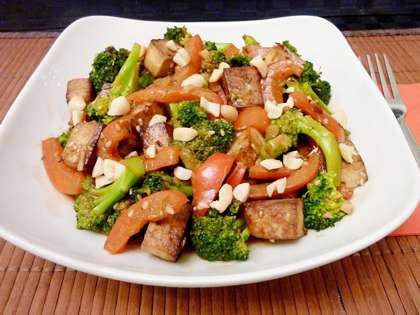 Stir Fried Paneer with Peanut is a delicious Chinese starter, here paneer is tossed with the butter, crushed peanut and spices. It is a great appetizer stolen from the Chinese Cuisine. Stir fried paneer itself has a delicious taste and just imagine the flavor when is to be cooked in the sauces and spices. Learn to make easy and yummy stir fried paneer in peanut and enjoy at any time whenever you feel hungry.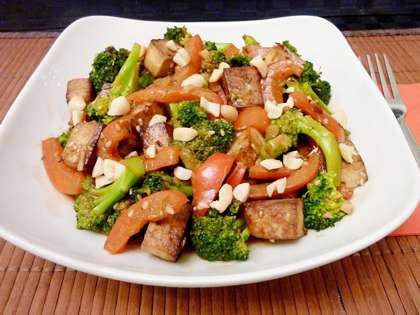 Preparation time: 15 minutes
Cooking time: 25 minutes
Servings: 2 persons
Ingredients:
200 gms paneer (cottage cheese) cubes
2 tbsp peanuts crushed
1 green bell pepper cut into slices
1 yellow bell pepper cut into slices
1 small onion cut into slices
6-8 cloves garlic crushed
1 inch ginger julienned
1 small cup broccoli chopped
1 tsp butter
1 tsp honey
1 tbsp cornflour
2 tbsp soy sauce
1 tsp red chilli sauce
1/4 tsp paprika
1/4 tsp pepper powder
Salt to taste
Vegetable oil to shallow fry
How to make Stir fried paneer with peanut:
Stir fry the cubes of paneer is sufficient amount of hot oil and keep aside.
Melt the butter in a sauce pan and add peanuts, roast them for about 25-30 seconds or until they browned.
Heat a wok and add 1 tsp of oil, add the thin slices of ginger and crushed garlic. Saute for few seconds.
Add onion and salt. Cook for 2 minutes.
Add the bell peppers and broccoli.
Stir and add soy sauce, chilli sauce and honey. Mix well.
Now add cornflour, paprika and pepper powder.
Add 2 cups of water and wait for few boils.
Add stir fried cubes of paneer and adjust with the seasoning.
Keep stirring for few minutes until sauce thickened and coat all the vegetables.
Finally pour peanut butter all over and serve hot.
Chef Tips:
Here you may add vegetables of your choice.
You can do great use of maida here if cornflour is not available.
You may use sweet chilli sauce if do not want to add honey.
Many of the times broccoli is not available in the market, so you may use spring onions.