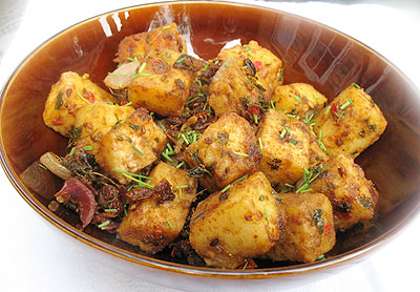 Paneer Salt and Pepper is a preparation of tossed paneer with crushed pepper and hints of soya. This is one of the most delicious starter among the others of Chinese Cuisine. It is truly a mouth melting, vegan Chinese dish which can be served either as an starter or entree along with fried or brown rice. Learn to make Paneer or Tofu in salt and pepper in just restaurant style.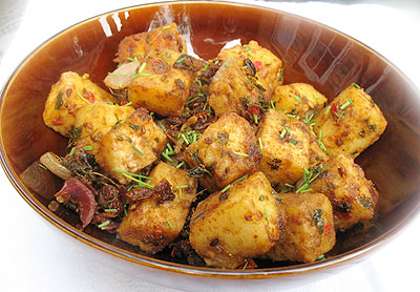 Preparation time: 10 minutes
Cooking time: 20 minutes
Servings: 2-3 persons
Ingredients:
2 cups cubes of paneer
1/2 cup celery
1/2 cup green bell pepper
2 tbsp cornflour
1 tsp ginger minced
1 tsp garlic minced
6-8 green chillies sliced
1/2 tsp dark soy sauce
1/2 tsp vinegar
1/2 tsp brown sugar
1/2 tsp crushed black pepper
Tooth picks
Vegetable or Canola oil
Fresh chopped cilantro
Few spring onions (green part)
Salt to taste
How to make Paneer salt and pepper:
Combine cornflour, salt and crushed black pepper.
Gradually add water to make a thick consistency batter.
Coat the cubes of paneer well and deep fry in hot oil until golden brown in color.
Heat up a wok and add 2 tsp of oil.
Add ginger, garlic and green chillies. Saute for few seconds.
Add green bell pepper and celery.
Toss and add salt, brown sugar, soy sauce and vinegar.
Reduce the flame and stir continuously.
Check the tenderness of bell pepper and add fried paneer.
Cook for 2 minutes.
Now add handful chopped spring onion green part only.
Stir fry for few seconds.
Garnish with fresh cilantro.
While serving as an starter just fix each paneer cube in a toothpick along with the bell pepper.
Chef Tips:
In this recipe paneer should be crispy for that fry few pieces of paneer at a time in hot oil.
While frying paneer keep the gas on high heat and oil must be hot enough to inculcate the crispness in the paneer.
You may add onions, carrot, rings of tomatoes to increase the quantity of dish, also it will be more flavored because of veggies.