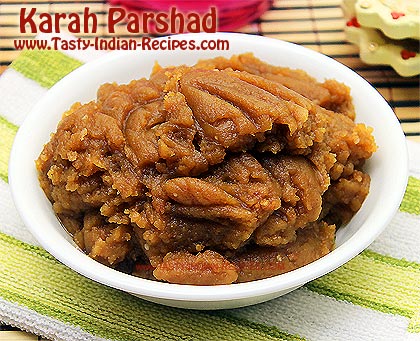 Karah parshad is one of the most tastiest Indian Prashad Recipe, which can be easily made at home with wheat flour, ghee and sugar. Karah parshad has a religious significance and is offered to all visitors in Gurdwaras. A tastiest Indian Prashad Recipe is loved by all. Here is the proper consistency of all ingredients for making perfect Karah Parshad Recipe.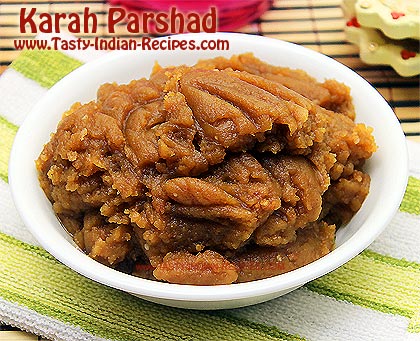 Prep time:
Cook time:
Total time:
Yield: 8 servings
Ingredients:
2 cups whole wheat flour (gehu ka atta)
2 cups sugar
4 cups water
1-1/2 cup ghee (clarified butter)
4 green cardamom, well crushed
Few almonds, finely chopped (optional)
Few cashew nuts, finely chopped (optional)
How to make Karah Prasad:
Heat a big frying pan and melt the ghee in it.
Now add flour and stir continue on low flame for 5 minutes.
When the flour is little browned, add water and sugar.
Stir constantly for making lump free Karah Prasad.
After few minutes, a sweet flavor will be released and Karah Prasad will turns into little reddish brown color, it's because of melting sugar.
Stir continuously to avoid the sticking and burning of flour at the bottom of pan.
Add crushed cardamoms and mix very well.
Do not stop stirring the prasad till it thickened well and turns into a firm pudding and the mixture leaves the sideof the pan.
Serve this delicious Punjabi karah prashad hot with puris.
You may garnish it with chopped almonds and cashew nuts.