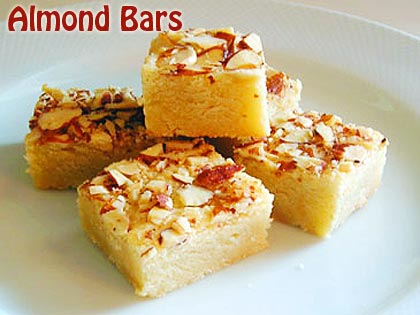 Almond Bars are simple yet delicious bars made with almonds, maida and butter. Learn how to make quick and tasty almond bars at home, distribute to your near and dear ones and celebrate your best Christmas week.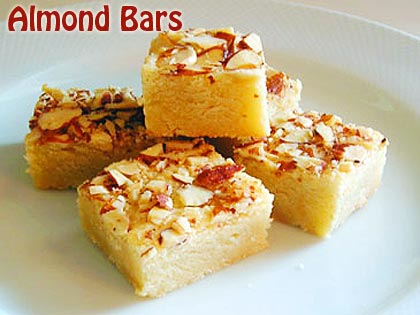 Preparation time: 8-10 minutes
Cooking time: 30 minutes
Servings: 20 bars
Ingredients:
2 cups butter
2 cups all-purpose flour (maida)
2 cups sugar
1 cup almonds thinly chopped
2 tsp almond extract
1-1/2 cups milk
1/2 cup confectioners sugar
2 eggs
How to make Almond Bars:
Grind the sugar and make a smooth powder.
Beat the eggs in a bowl and keep aside.
Melt the butter in a saucepan or in the microwave.
Stir the flour and sugar.
Mix the beaten eggs, butter, milk, almond extract and chopped almonds.
Bake the oven to 350 degrees F and grease the baking pan with the butter.
Spread the mixture in to the greased baking pan and place in the oven.
Bake for about 30 minutes until done.
Insert a toothpick if it seems ready.
If the toothpick comes out clean then cool on a wire rack.
In the end, sprinkle confectioners sugar over all and serve.
Chef Tips:
You may garnish these yummy bars with some chopped almonds.
Almond bars can be refrigerated for few days.