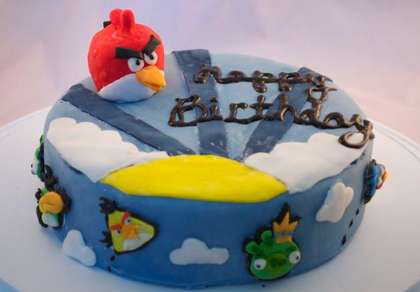 Angry Birds Birthday Cake is an easiest cake on the planet. Join me while I'm trying to navigate these choppy waters and keep smiling. Learn to make an Easy Angry Birds birthday cake that will surely wow your kids, so let's have a great time with a great smile on your face.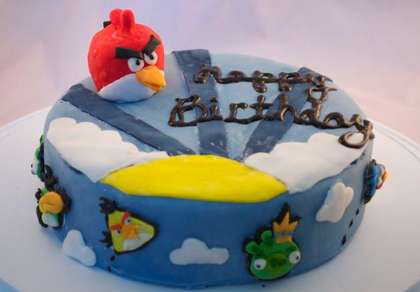 Preparation time: 10-12 minutes
Servings: 12-15
Ingredients:
3 green Super-balls
2 Angry Birds
5 Milky Way candy bars
one batch Butter cream Frosting, tinted green
one 9×13 cake, baked and cooled
green colored sugar
1 Sharpie
 How to make Angry Birds Birthday Cake :
Unwrap the candy bars and keep aside.
Frost the cake very well by sprinkling the colored sugar over all on top of the cake.
Now carefully insert three candy bars vertically into the cake and keep the distance of 2-3 inches.
Arrange the remaining 2 candy bars a the top of these "posts".
Slowly draw the pig faces on the green Super-balls and place the pigs on the cake.
Also place the Angry Birds on the cake.
Angry Birds Birthday Cake is ready to celebrate.